Meet The BA Auto Care Team
Auto Mechanics & Certified Technicians
BA Auto Care's skilled auto mechanics are at the heart of our operation, consistently delivering high quality, affordable auto repairs time after time. To keep the BA Auto Care team in top form, we provide them with the latest information, training, and technology as well as a safe, modern work environment.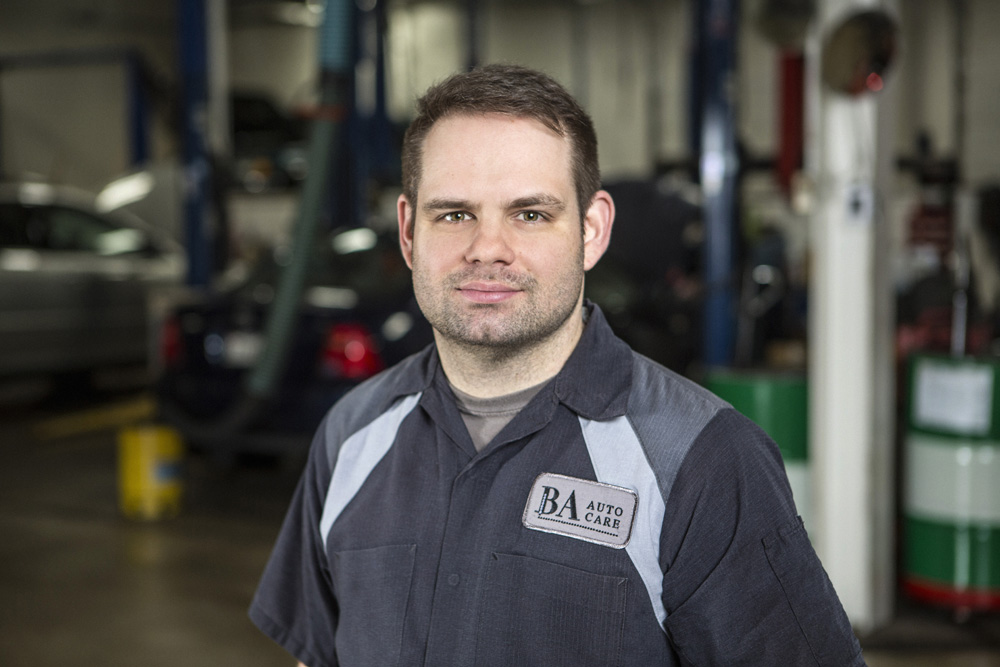 Ben McMillen – Technician
Ben is an ASE Master Certified Technician and Advanced Engine Performance Specialist. He's also a Bosch Certified Technician and is ACDC (Hybrid and Electric vehicle) certified. Ben started with us over 17 years ago as an apprentice working in the service bays. He is now one of our top diagnostic technicians. Ben likes to take to the ice when he's off the clock, playing ice hockey.
Jeff started at BA Auto Care in August 2011 and is an ASE Master Technician. He served in the Navy before entering the automotive field and is married with two grown boys. He goes crabbing every Sunday in the summer and brings home 1-2 bushels each time. Jeff is currently looking for a vacation house in South Carolina.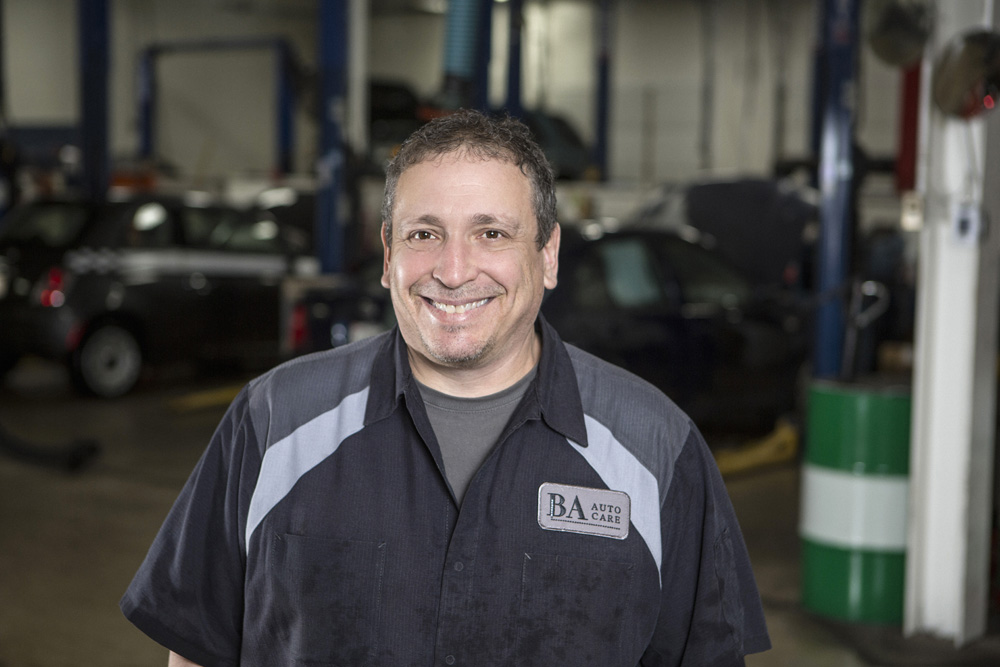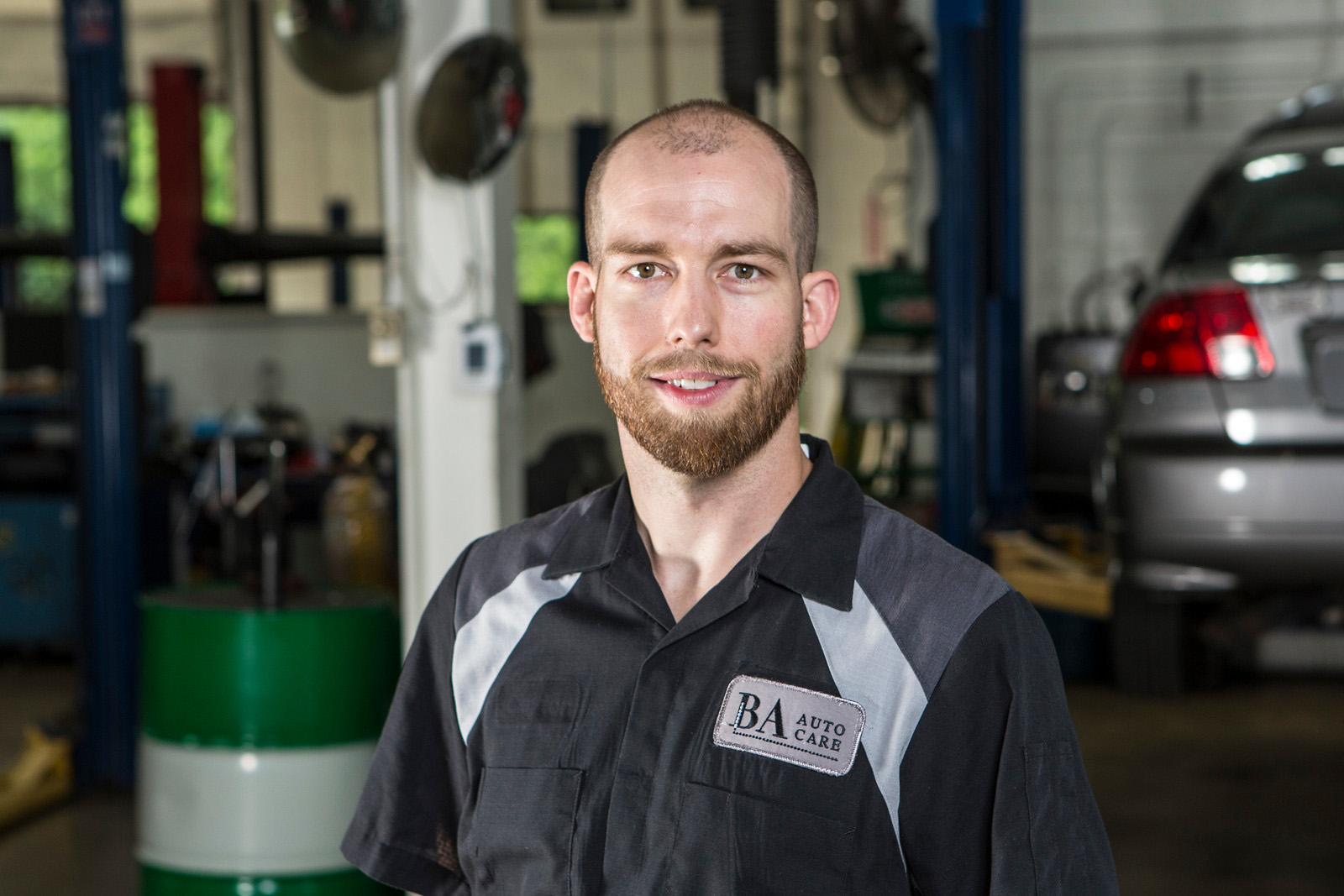 Josh comes to us after working over 14 years at Acura and Honda dealerships. He might have work for Acura but Josh has been repairing and servicing all makes and models throughout this career. Josh lives in Howard County with his wife Nicole, their two children and three dogs. When Josh isn't busying taking care of his family he dabbles in wood working including building sheds and cabinetry. Oh and he loves to cook!!
Patrick Sheldon – Technician
After working in the oil industry the events of 911 had Patrick looking for a new career path. Having grown up taking apart lawn mowers and other small engines and taking automotive classes in high school, making the switch to being an automotive technician just made sense. Patrick was initially interested the repair side of the job but over the years, he now loves the challenge of diagnostic work. Patrick and his wife of 20+ years live in Randallstown with their three cats Neville, Dobby, and Minerva (yes, from Harry Potter). Emily is an MRI Technician at Johns Hopkins. Patrick enjoys any outdoor activity including fishing and crabbing. He also placed 2nd in axe throwing in 2018.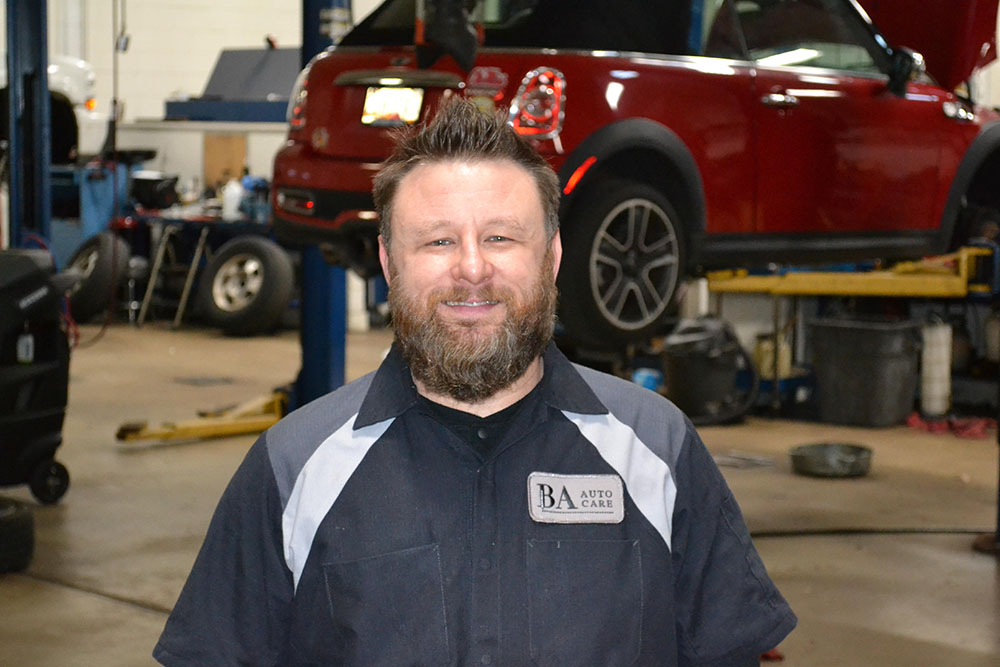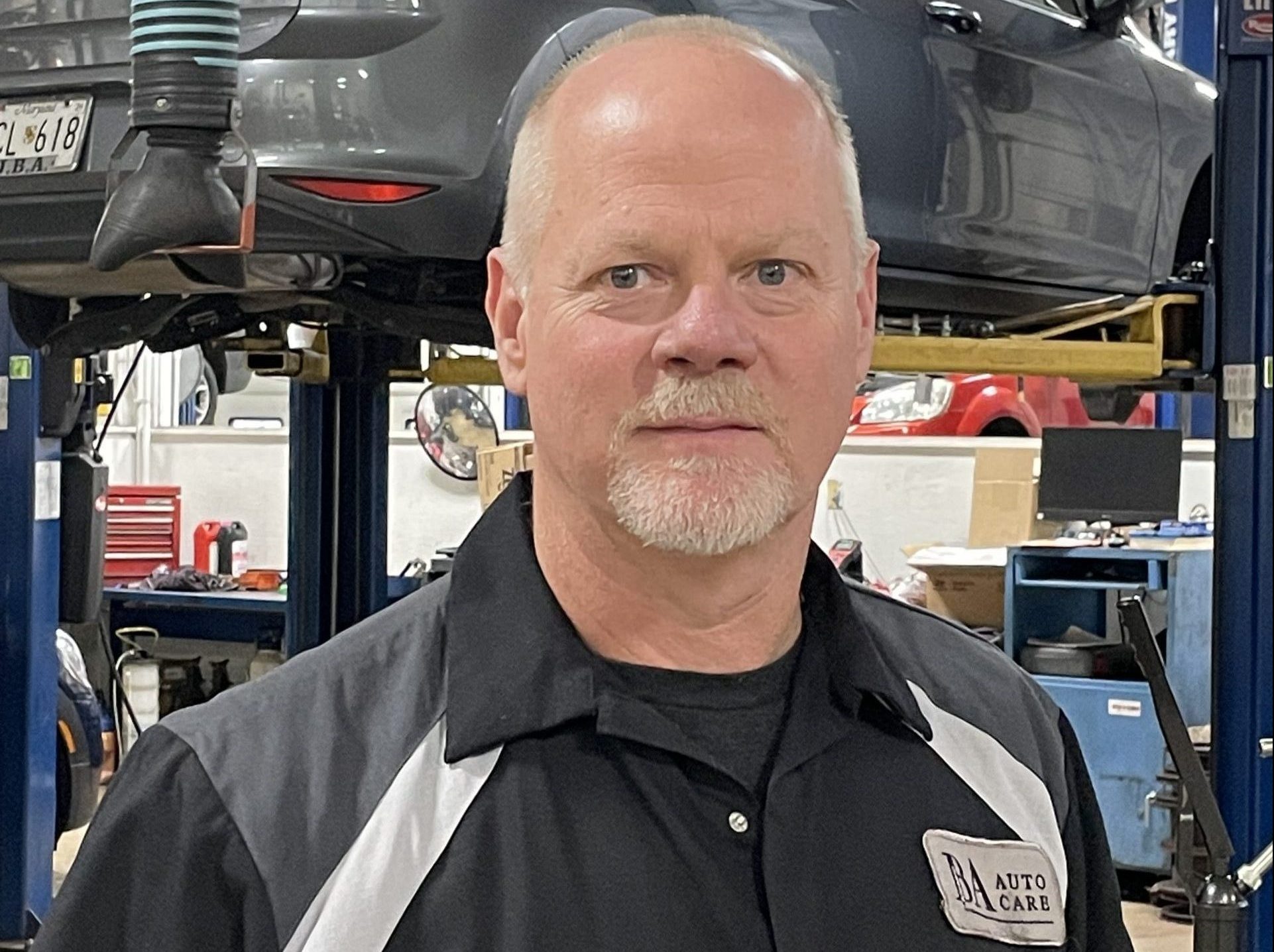 Rick Fischer – Technician
Rick, an ASE Master Technician, started at BA Auto Care at the beginning of 2023 after more than 40 years as an automotive technician. Rick was a Toyota and Lexus specialist before making a switch to European vehicles. When Rick isn't turning wrenches, he enjoys family time on the eastern shore in their camper. His hobbies include photography and shooting pool. FYI, he's really good, like Vegas level good!!
Doria Wiedel – Apprentice
Doria started working here at the beginning of her senior year at Howard High School in August 2022. She works in the mornings, goes to high school in the afternoons and attends automotive classes at CCBC on Fridays and Saturdays. Her dedication to becoming a technician shows with her commitment to both school and work. When Doria does have some down time, she enjoys building Techic Legos and hanging out with her cats Stella and Scarlet. Doria's love of vehicles started at a young age with her interest in school buses and how they are built.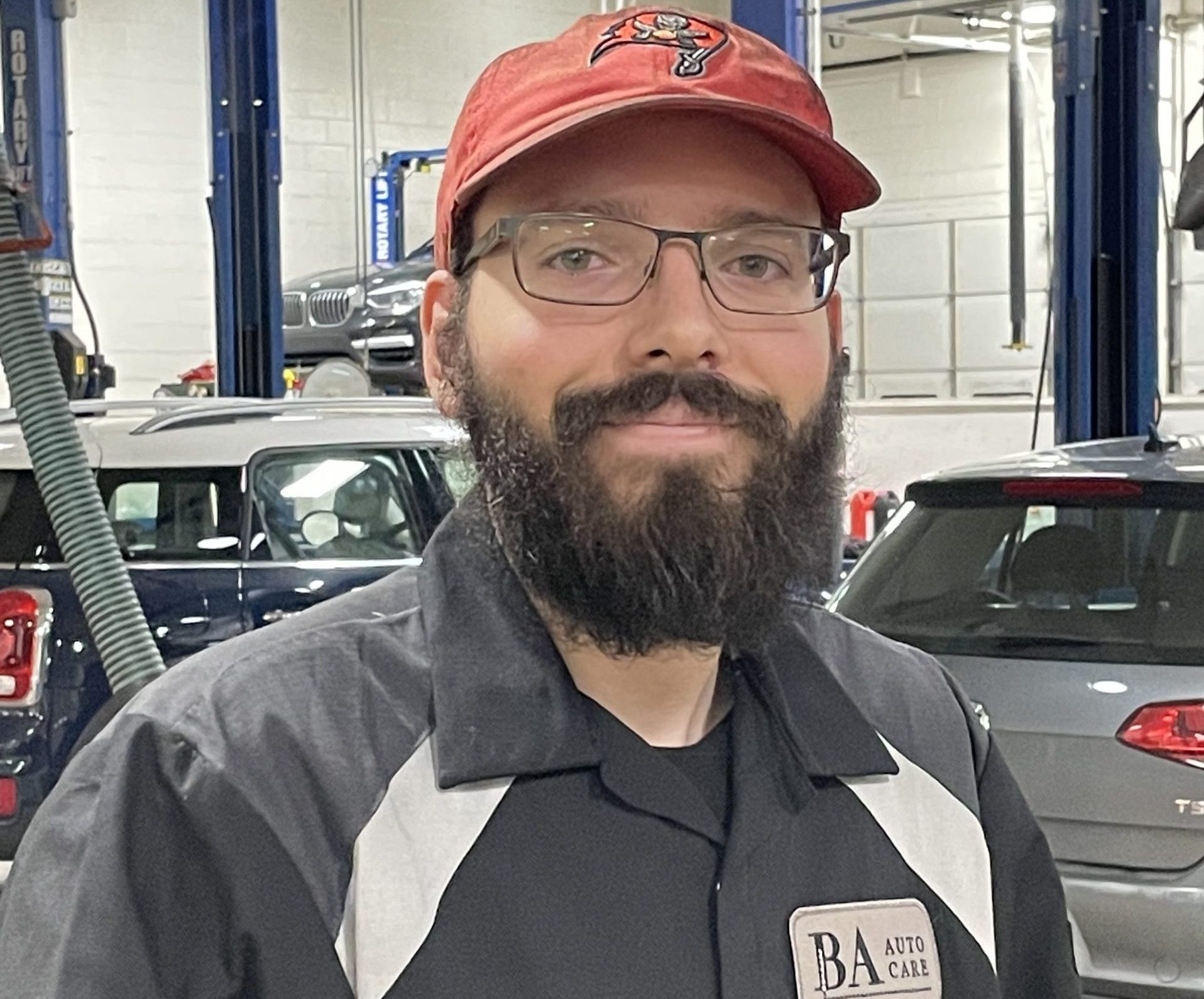 Nick Dargakis – Apprentice
Nick is our newest apprentice who started working at BA Auto Care after his first semester at CCBC in December 2022. He attends CCBC for 8 weeks then works for us for 8 weeks until he completes all the automotive class requirements. Nick's love of cars started at a young age. His favorite car just so happens to be the car he drives daily, the Ford Mustang. Nick's dream car is the Ford GT500.
Our service advisers play a key role in ensuring that our customers fully understand any service or repairs their vehicles require.  Each adviser works closely with our customers, helping them to understand the work we are performing on their vehicle. Advisors let them know what services need to be done immediately, what should be fixed soon, and what items can wait.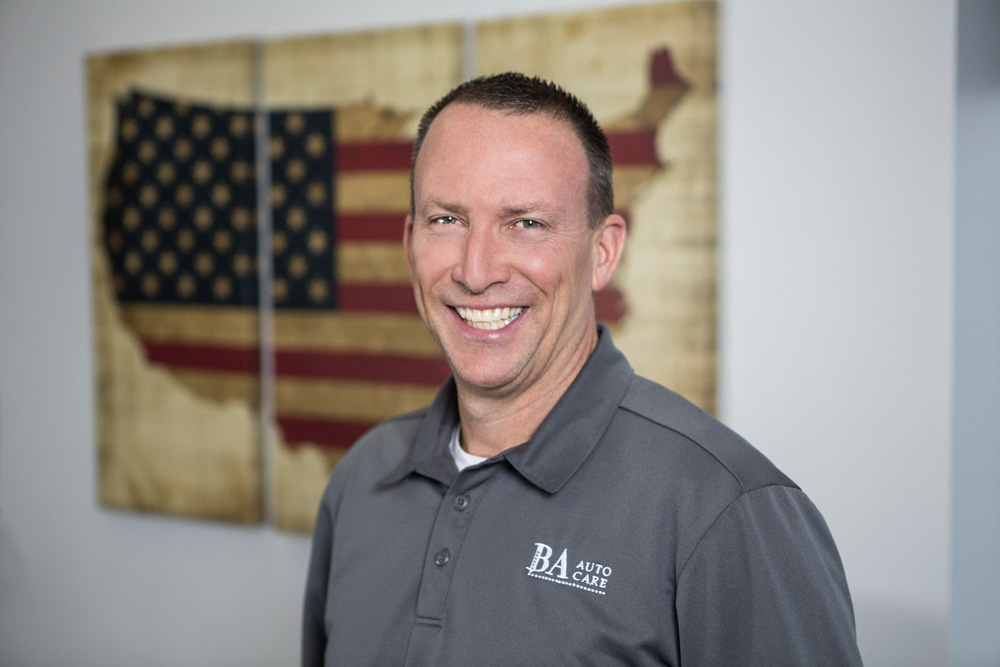 Zane Zaiser – Service Manager
Zane started his career in the automotive industry as a technician and moved to being a service advisor when the physical work started to take its toll. He has worked at both independent repair shops and dealerships. It's at one dealership where he met Brady, another service advisor here at BA Auto Care, and formed a great relationship. When a position opened up here, Zane immediately asked Brady to apply. Zane and Brady's working styles truly complement each other. When Zane isn't advising customers, he likes to spend time at the beach with his family or attending cars and coffee events with other car enthusiasts.
Brady Wise – Service Advisor
Brady also started his automotive career as a technician but switched to being a service advisor when a position became available at the dealership where he was working. Brady and his wife Chelsea (you might remember Chelsea as she worked for us too) have a beautiful daughter, Eden, a son Eli, and two crazy puppies Enzy and Dex. Brady loves wood working and has turned his garage into a workshop. We look forward to seeing he creations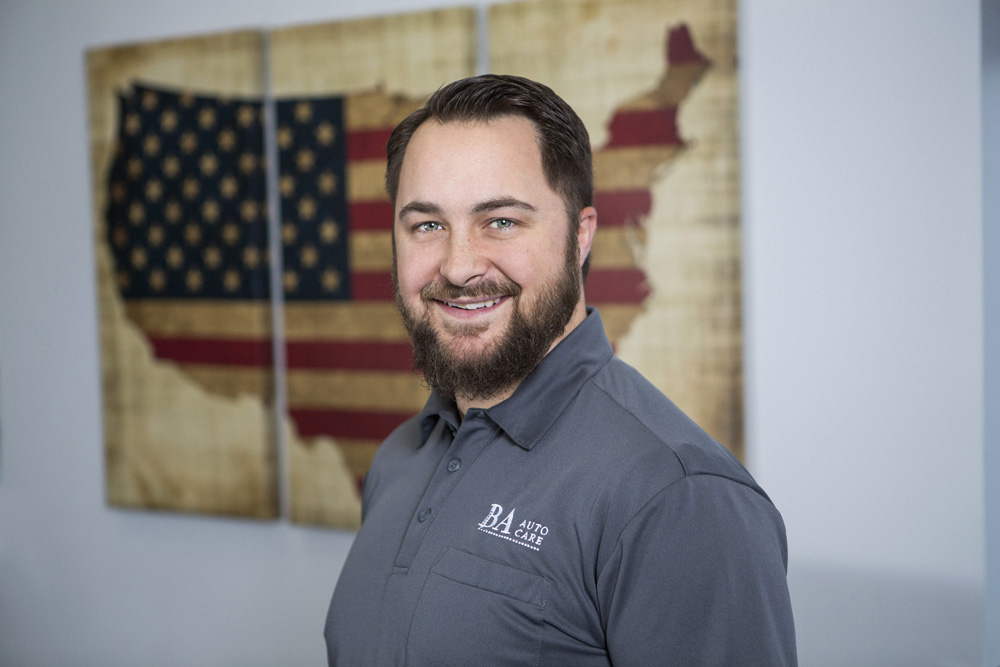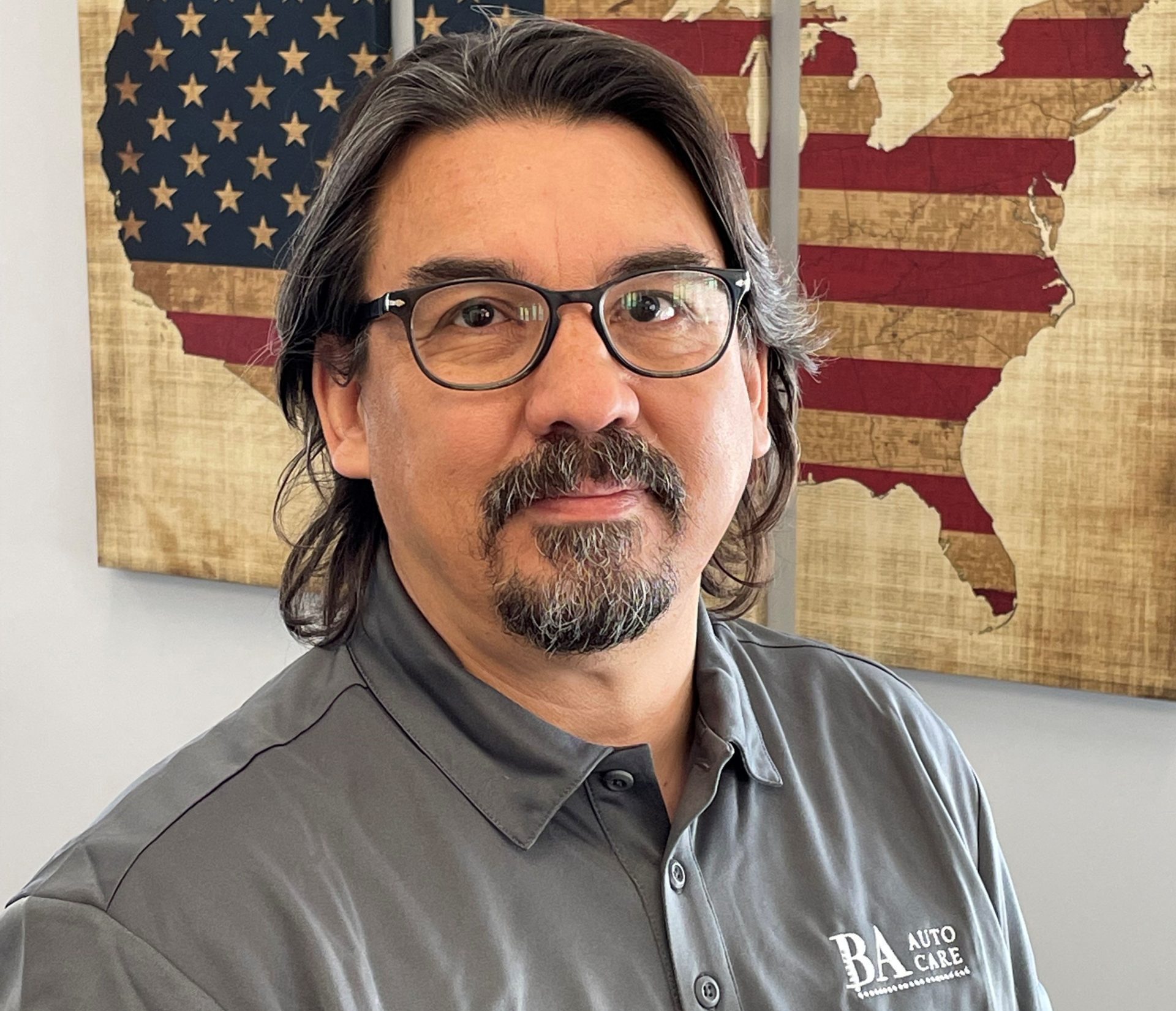 Joe Huntington – Service Advisor
Joe became a service advisor here at BA Auto Care in September 2021. Before coming to BA, Joe worked at various dealerships and independent shops, including the shop where he met Zane. So if you are keeping track, Zane has helped us find two great additions to team. Joe enjoys spending his time off playing guitar in a band and making the most amazing drawings. He lives with his wife and kids nearby in Jessup.
Office Staff and Van Drivers
We know that every interaction with our staff shapes your auto service experience. That's why our friendly office staff and shuttle service drivers are focused on providing courteous, top quality customer service every time we interact with you — whether it's on the phone, online, or in-person.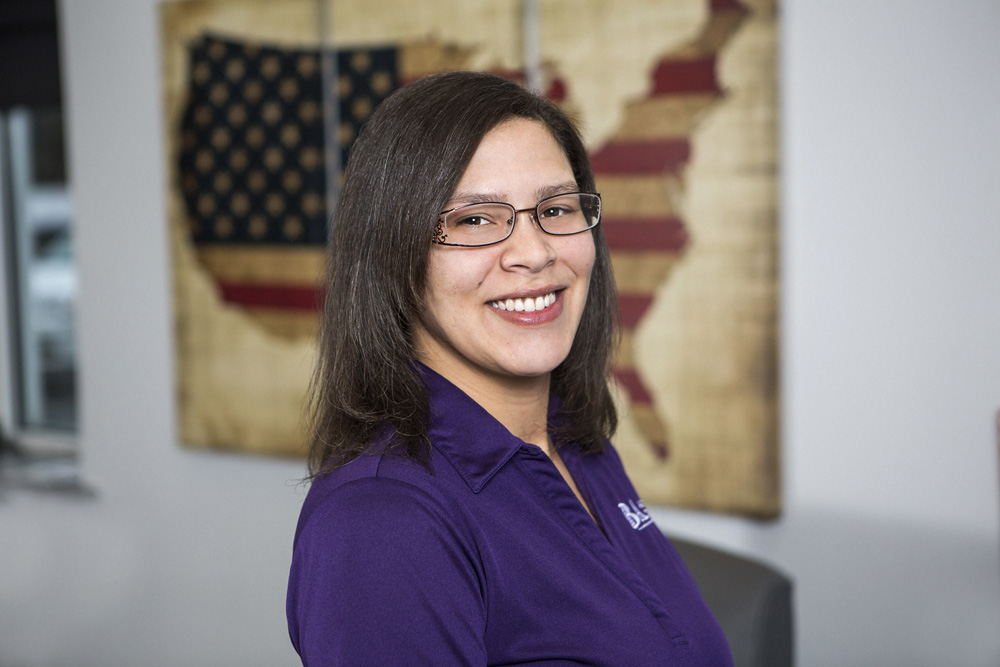 Grace Ulrich – Office Manager/Account Payable
This place wouldn't run as well without Grace!! She takes care of everything office related including greeting customers by name when they come in. Grace stays busy even after work raising her 3 kids, Isaiah, Matthias and Eliana, with her husband Davis. Between three different schools, travel baseball, soccer, gymnastics and a new puppy (Peanut), the fun never stops!
Jimmy Ashton – Office Assistant
Jimmy is Grace's right hand man helping customers and keeping the office running smoothly. He started working at BA Auto Care in December 2014 after spending a few years in the hospitality industry.  Jimmy enjoys spending time with his mother, 4 siblings and nieces and nephews.  He is currently saving up to be able to buy his first home.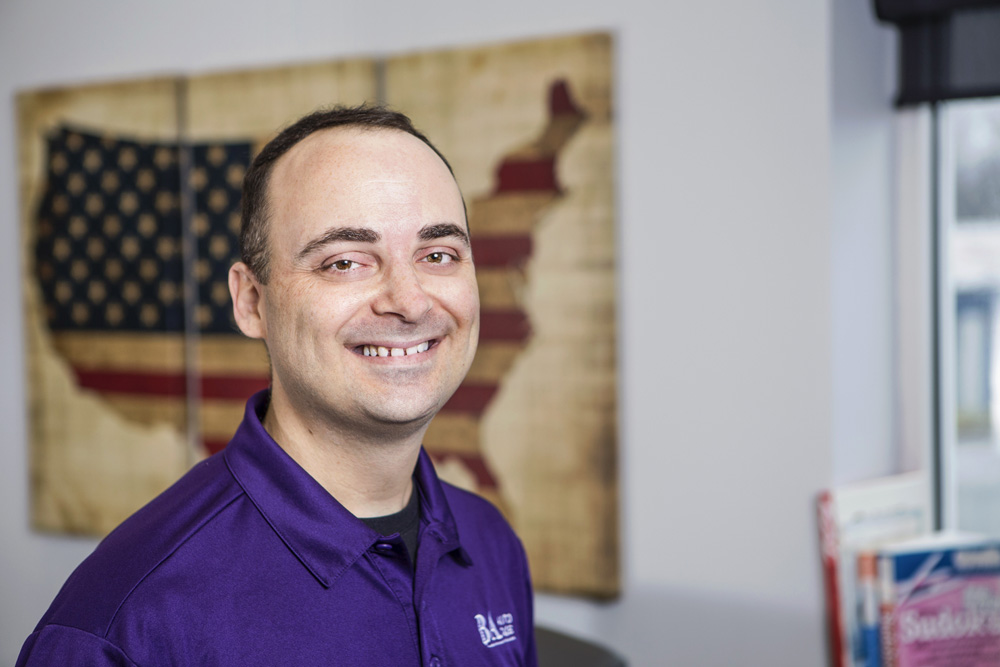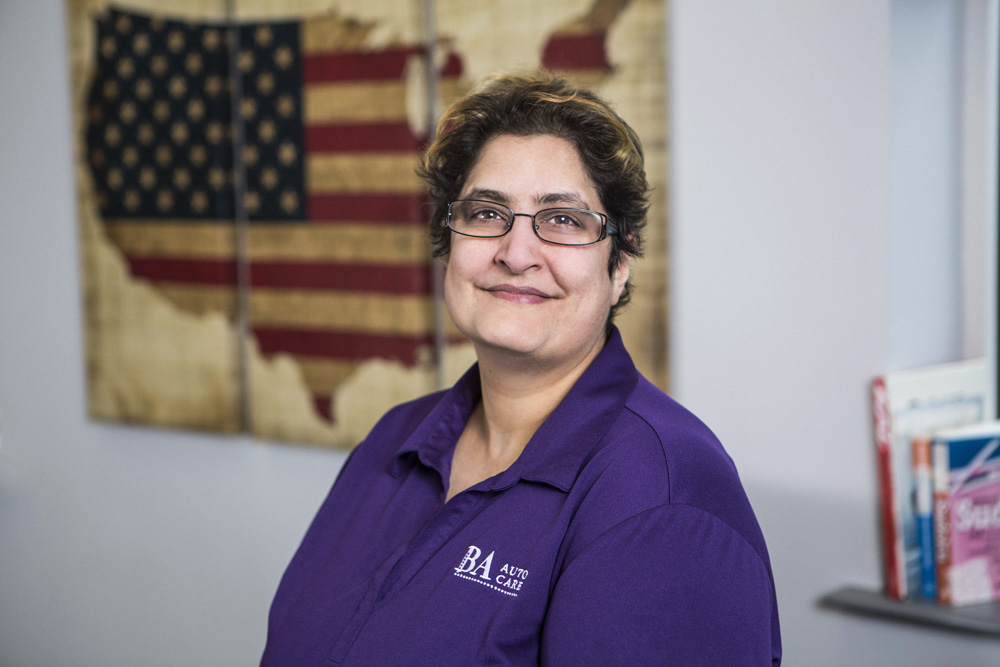 Cathy Bradford – Shuttle Driver/Office Assistant
Cathy has been a customer for over 30 years and her parents are two of our original customers. She started working at BA Auto Care as a fill-in employee and began working regularly in August 2018. Cathy lives in Columbia with her husband, children and their many cats. In her free time Cathy enjoys building Lego sets, craft projects and relaxing in her new sunroom.
Beth Sellers – Shuttle Driver
Beth and her husband Dave have been customers of BA Auto Care for more than 40 years. Before joining our staff, Beth was a teacher, special education teacher and a swim coach while raising her two sons. Beth enjoys swimming and gardening in her spare time. She's even helping with our vegetable garden here at the shop. Maybe we'll be able to produce some good veggies in the coming year.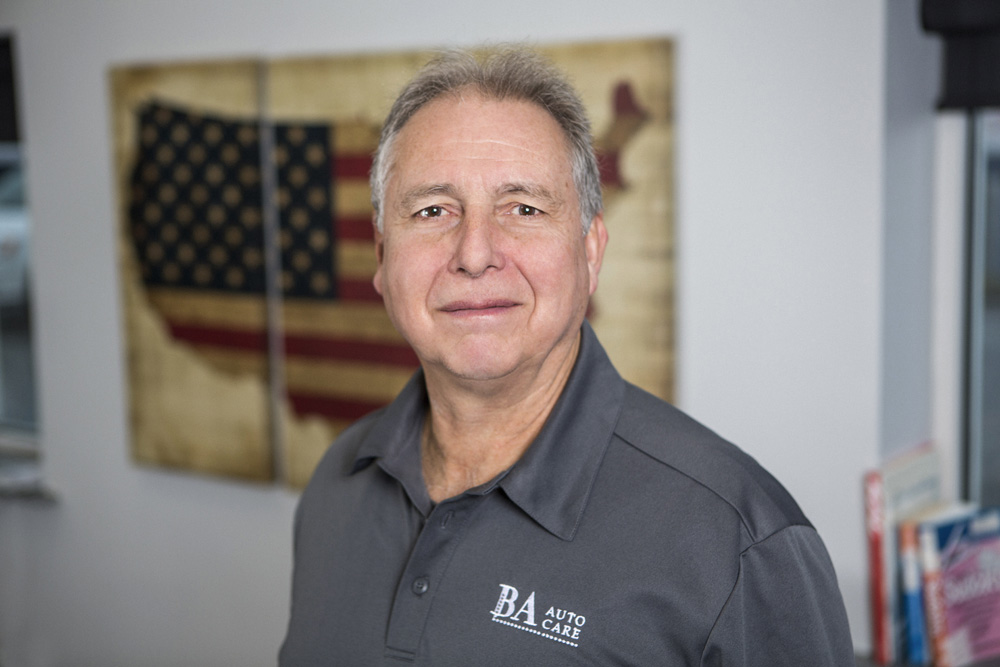 Tom Smith- Shuttle Driver
Before joining BA Auto Care early in 2014, Tom worked as a Digital Design Engineer for Arrow Electronics. In his spare time Tom enjoys biking to stay healthy as well as working around the yard. He's been enjoying getting to know all the BA Auto Care customers.