Meet The BA Auto Care Team
Auto Mechanics & Certified Technicians
BA Auto Care's skilled auto mechanics are at the heart of our operation, consistently delivering high quality, affordable auto repairs time after time. To keep the BA Auto Care team in top form, we provide them with the latest information, training, and technology as well as a safe, modern work environment.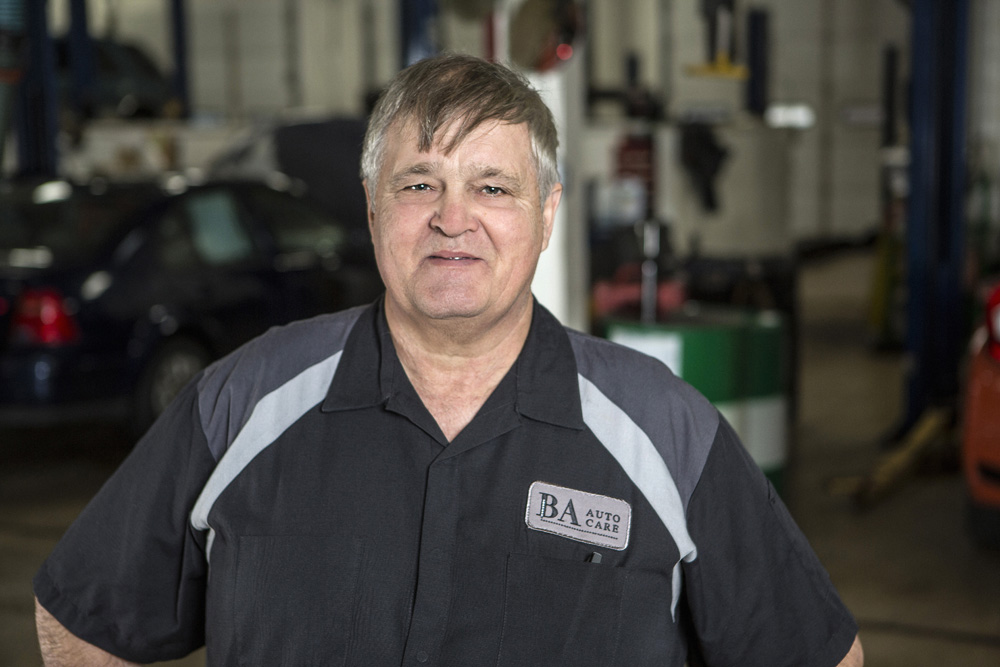 Paul Farinholt – Technician
Paul is an ASE Master certified technician and has been with us the longest — over 30 years. Paul grew up on a farm in Lisbon and served as a volunteer fire fighter there. Paul has two daughters and two granddaughters. He loves to ride his motor bike and thinks nothing of going to Canada for the weekend with the group he rides with.
Ben McMillen – Technician
Ben is an ASE Master Certified Technician and Advanced Engine Performance Specialist. He's also a Bosch Certified Technician and is ACDC (Hybrid and Electric vehicle) certified. Ben started with us over 17 years ago as an apprentice working in the service bays. He is now one of our top diagnostic technicians. Ben likes to take to the ice when he's off the clock, playing ice hockey.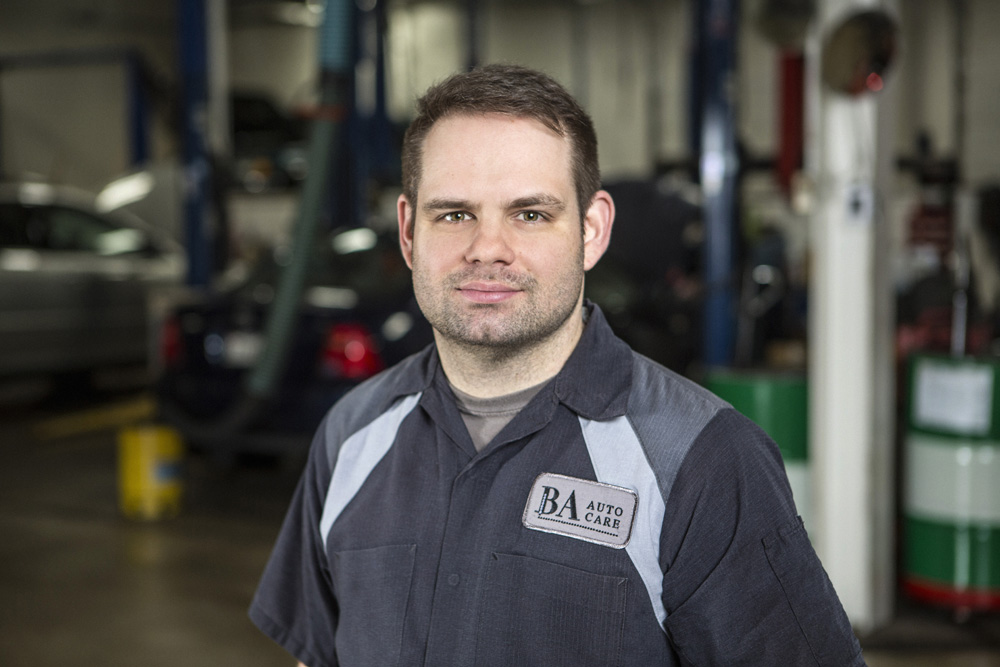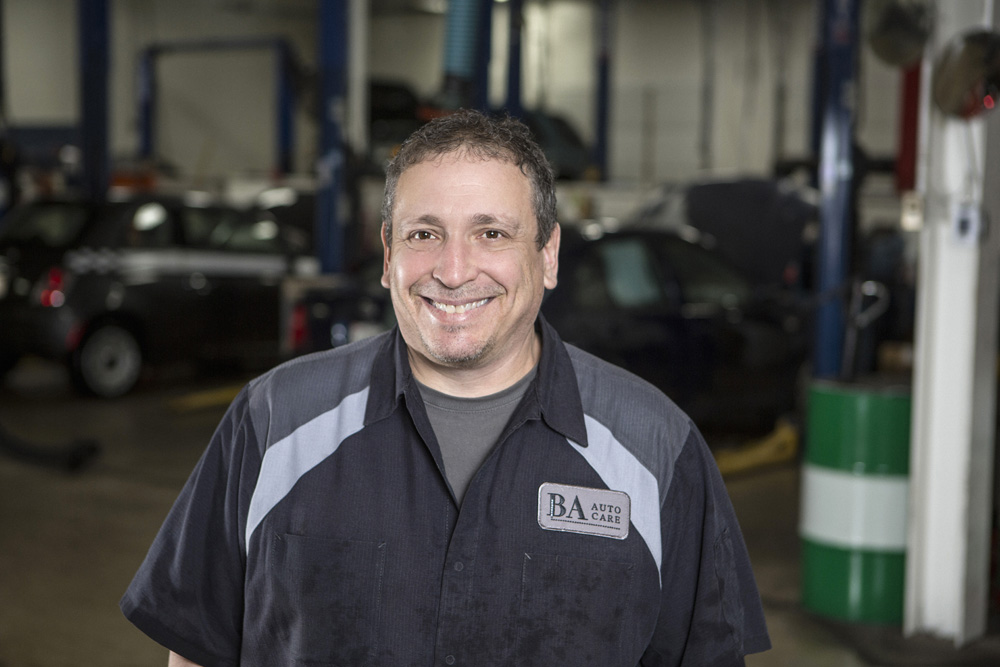 Jeff is an ASE Master Technician. He served in the Navy before entering the automotive field and is married with two grown boys. He goes crabbing every Sunday in the summer and brings home 1-2 bushels each time. Jeff is currently looking for a vacation house in South Carolina.
Josh comes to us after working over 14 years at Acura and Honda dealerships. He might have work for Acura but Josh has been repairing and servicing all makes and models throughout this career. Josh is married to the lovely Nicole and they have a beautiful young son together. Josh and Nicole are eagerly waiting to add to their family and have spent the last year plus working towards adopting a child. When Josh isn't busying taking care of his family he dabbles in wood working including building sheds and cabinetry. Oh and he loves to cook!!
Ian joined the BA Auto Care team in November 2018 as an apprentice. Ian works for us during the day and goes to CCBC two evenings a week to learn everything automotive related. On weekends, when he's not studying or enjoying time with his wife Chelsea, Ian is cutting hair. Before joining us Ian was full time, award winning barber. Not only does he know how to use clippers, Ian also plays the drums, is active in his Church and a sports enthusiast. Ian and Chelsea are currently looking to buy their first home in Glen Burnie.
Our service advisers play a key role in ensuring that our customers fully understand any service or repairs their vehicles require.  Each adviser works closely with our customers, helping them to understand the work we are performing on their vehicle. Advisors let them know what services need to be done immediately, what should be fixed soon, and what items can wait.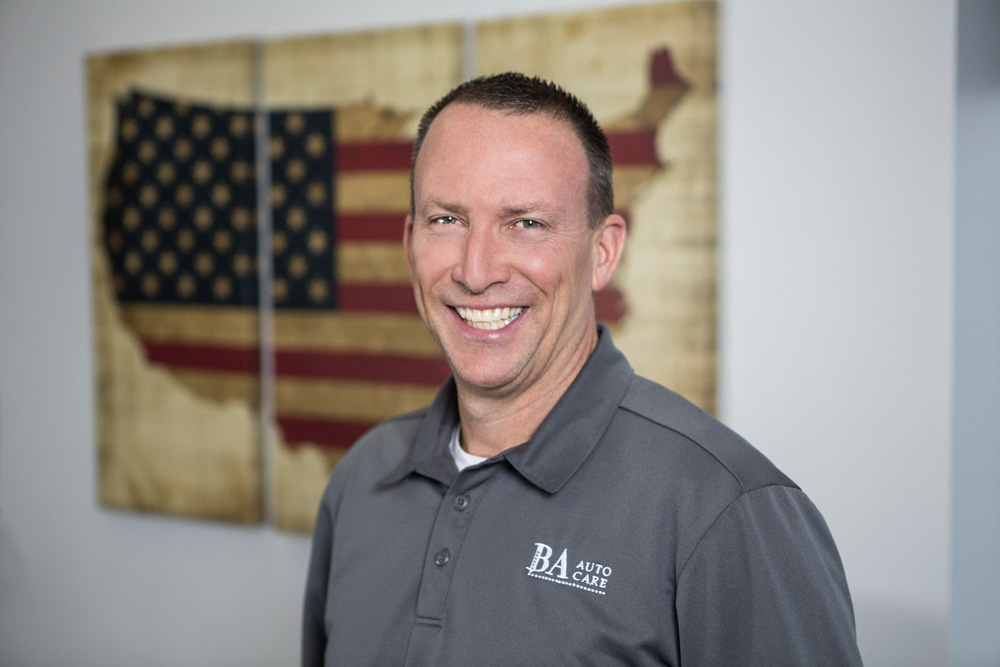 Zane Zaiser – Service Manager
Zane started his career in the automotive industry as a technician and moved to being a service advisor when the physical work started taking its toll. He has worked at both independent repair shops and dealerships. It's at one dealership where he met Brady, another service advisor here at BA Auto Care, and formed a great relationship. When a position opened up here, Zane immediately asked Brady to apply. Zane and Brady's working styles truly complement each other. When Zane isn't advising customers, he likes to travel with his wife, dad and daughter or showing off his BMW M3 at car shows. Zane is a definitely a car guy through and through.
Brady Wise – Service Advisor
Brady also started his automotive career as a technician but switched to being a service advisor when a position became available at the dealership where he was working. Brady and his wife Chelsea (you might remember Chelsea as she worked for us too) have a beautiful daughter, Eden and two crazy puppies Enzy and Dex. Brady loves wood working and has turned his garage into a workshop. We look forward to seeing he creations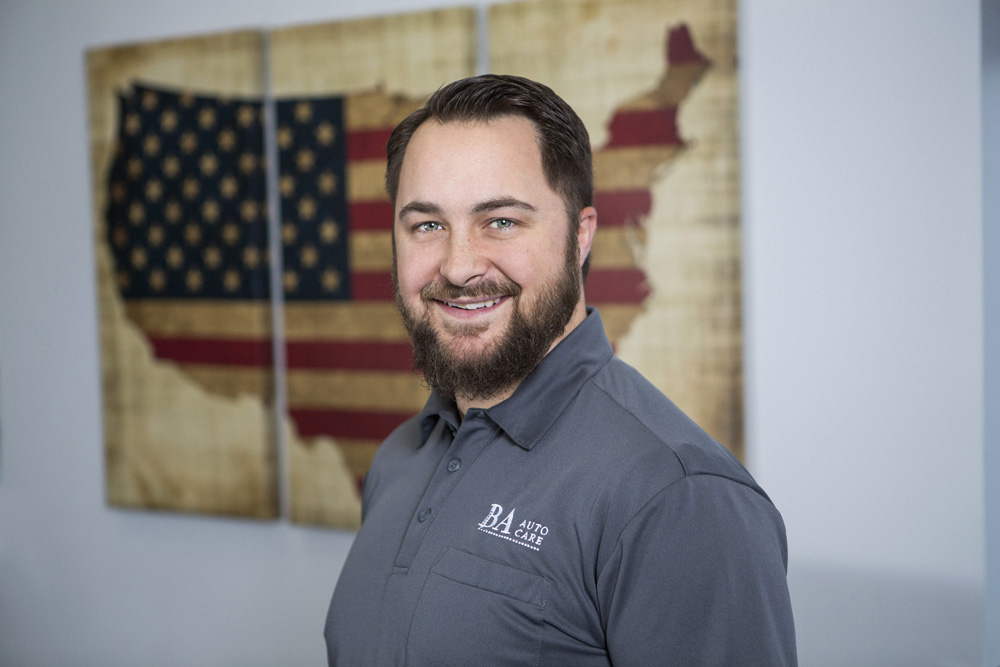 Jon Karner – Service Advisor/Technician
With over 12 years working one cars, Jon started working as a Service Advisor in the summer of 2017 after reinjuring his back. Jon's passion for helping customers has helped him build great relationships with the customers and his technician experience helps his explain the more complicated problems. Jon and his wife Merideth have two dogs and a shared passion for all things Star Wars.
Office Staff and Van Drivers
We know that every interaction with our staff shapes your auto service experience. That's why our friendly office staff and shuttle service drivers are focused on providing courteous, top quality customer service every time we interact with you — whether it's on the phone, online, or in-person.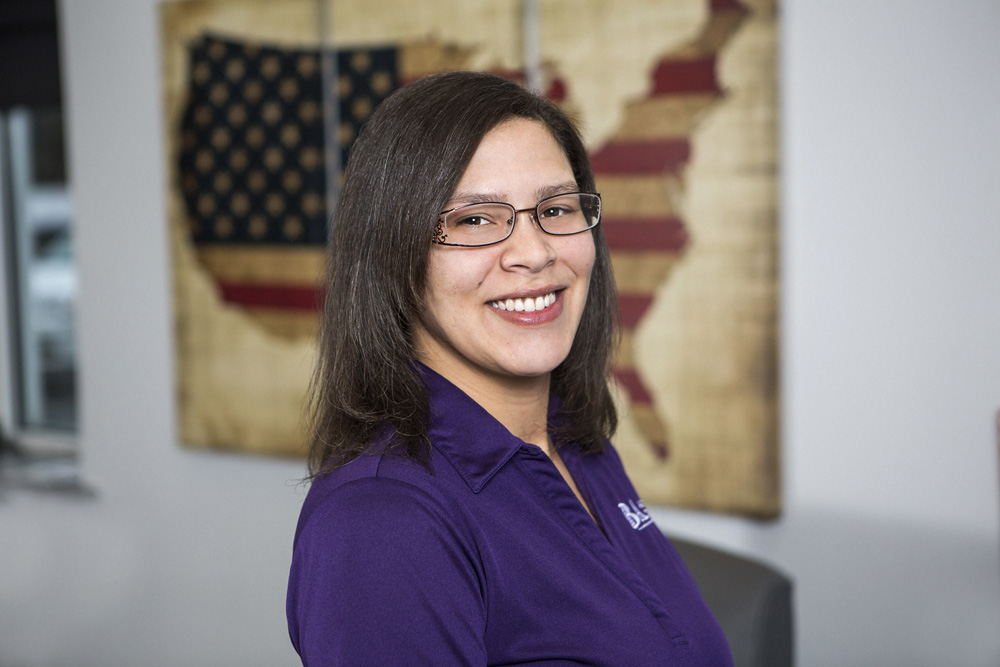 Grace Ulrich – Office Manager/Account Payable
This places wouldn't run as well without Grace!! She takes care of everything office related including greeting customers by name when they come in. Grace stays busy even after work raising her 3 kids, Isaiah, Matthias and Eliana, with her husband Davis. You may have met her youngest Eliana as she's been helping her mom with customer service in the afternoons. Nothing brings a smile to our customer's faces better than sweet Eliana.
Jimmy Ashton – Office Assistant
Jimmy is Grace's right hand man helping customers and keeping the office running smoothly. He started working at BA Auto Care in December 2014 after spending a few years in the hospitality industry.  Jimmy enjoys spending time with his mother, 4 siblings and nieces and nephews.  He is currently saving up to be able to buy his first home.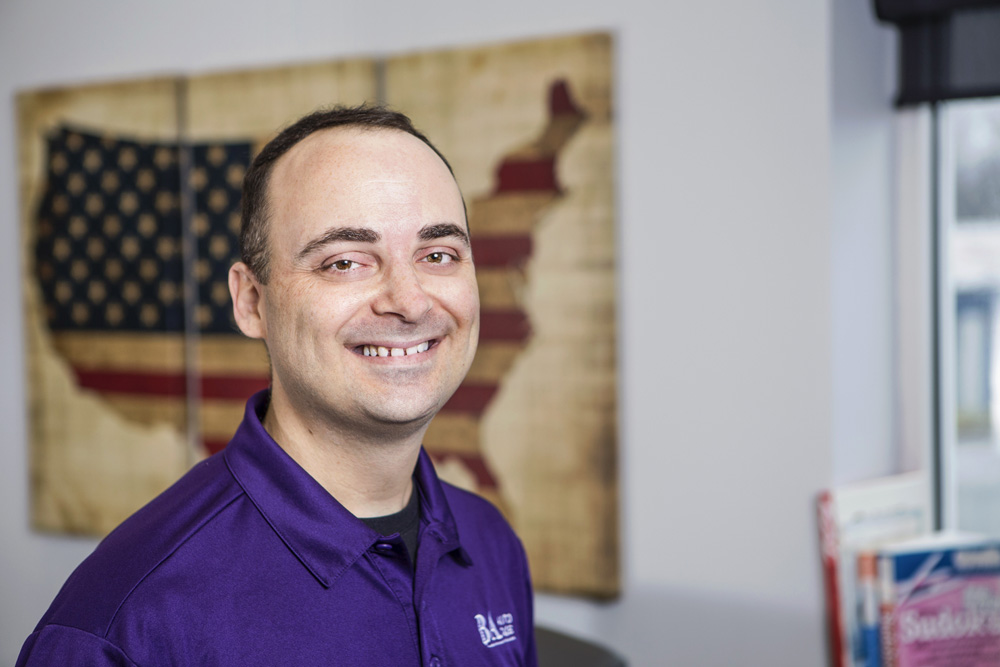 Ethel Bledsoe – Office Assistant
Ethel has been working at BA Auto Care for over 10 years as our evening office assistant. Originally from Alabama, Ethel and her husband moves to Columbia in the 80's where they raised their two daughters. Both daughters are now grown and have moved to North Carolina. Ethel recently welcomed her first grandchild and will be spending her vacations spoiling him rotten.
Cathy Bradford – Shuttle Driver
Cathy has been a customer for over 30 years and her parents are two of our original customers. She started working at BA Auto Care as a fill-in employee and began working regularly in August 2018. Cathy lives in Columbia with her husband, children and their many cats. In her free time Cathy enjoys building Lego sets, craft projects and relaxing in her new sunroom.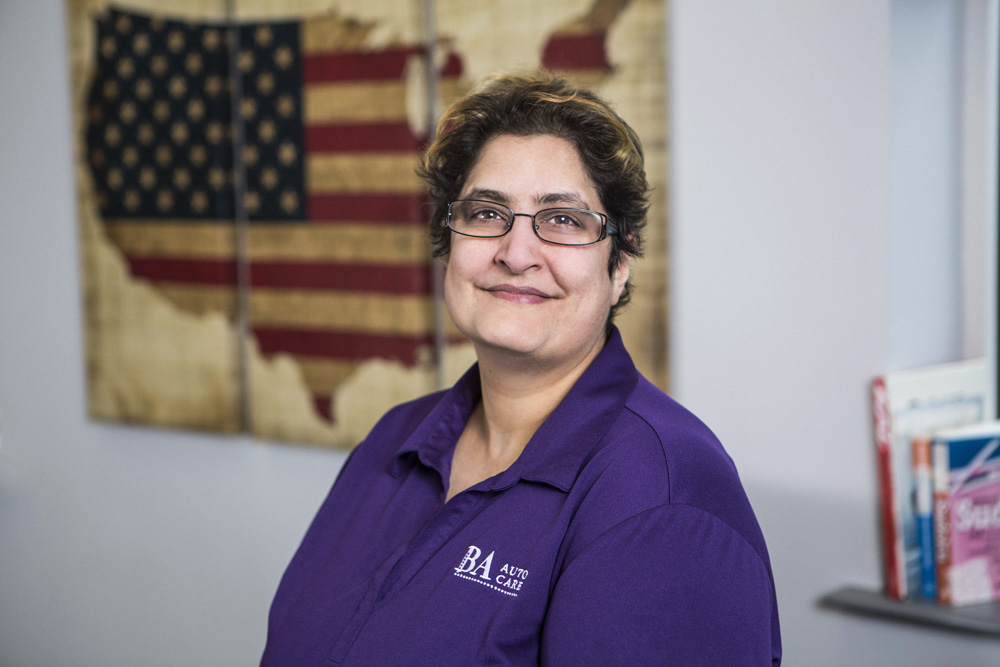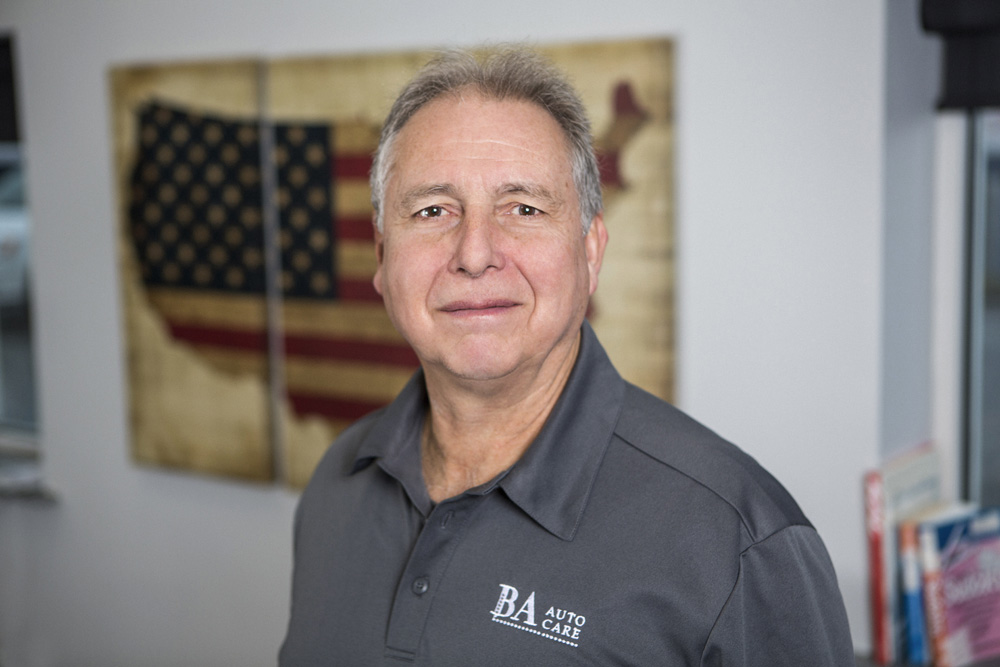 Tom Smith- Shuttle Driver
Before joining BA Auto Care early in 2014, Tom worked as a Digital Design Engineer for Arrow Electronics. In his spare time Tom enjoys biking to stay healthy as well as working around the yard. He's been enjoying getting to know all the BA Auto Care customers.