Installing A Side Airbag at Our Columbia, MD Auto Repair Shop
Brian England, Tue, May 29, 2012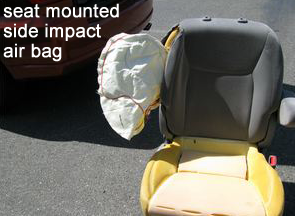 One of the things that frequently surprises people is just how much dismantling has to be done in order to complete an auto repair.
In this instance, I walked back into the shop and saw an airbag installation underway.  People usually associate airbags with the airbags mounted in the steering wheel, but in this case we were doing a seat-mounted, side airbag installation.
Side airbags deployment can be  triggered by sensors that respond to side impacts or rollovers.
In the video below, we show one of our auto technicians, Ben, in the process of completing an installation.

As you can see above, the entire car seat had to be removed in order to install a new airbag!  But, it's clearly worth it when you think about the fact that this technology actually saves lives.
It's amazing when you think about just how far we've come with technological improvements for better vehicle safety. In fact, over 98% of cars on the road today have airbags. Just ten years ago, that figure was closer to 50%*. Now, the difference is in the type of airbags available. The Insurance Institute for Highway Safety [IIHS] has a cool tool, that allows you to check to see the type of airbag protection available on your car and whether it's standard or optional.
If you would like even more information about airbags, check out this pamphlet from the IIHS.
*source:  Insurance Institute for Highway Safety
photo courtesy of midsouthrescue.org