Why Didn't Ford Look After Their Customer?
Brian England, Mon, Aug 26, 2013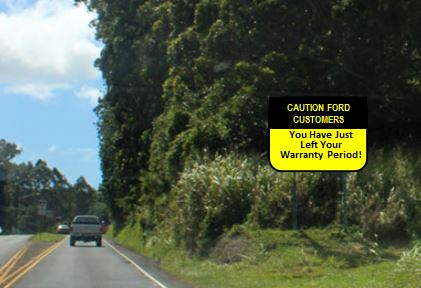 Often we are judged, not on how well we perform a job, but on how well we perform when something goes wrong. Most people understand that auto repairs and service can't be perfect; that is why we have warranties. When it comes to a warranty issue or perhaps an issue just outside of the warranty, how an auto service provider performs becomes very important.
This was brought home recently when my son-in-law's vehicle broke down. His 2010 Ford only had 25,000 miles on it, but it was three months outside of its 3 year, 36,000 mile warranty. The dealer said the part was not covered.  He would have to pay $700 to have it fixed. My son-in-law called Ford, and they pushed it back to the dealer. Still, the dealer would not help. The part that had failed was something that should have lasted 100,000 miles — not 25,000. I was shocked that Ford was not paying for this.
This short sighted approach can quickly lead to lost sales.  Here is Ford coming out of the recession in great condition, and then they treat the customers who have enabled them to be a profitable company badly!
Looking back to the 1980's when most cars were not very reliable, it was the companies that looked after their customers who came out on top. Honda and Toyota were making poor quality vehicles then, but every year they improved them.  If they had an issue they took care of the issue and looked after their customers.
An example of this was when thousands of electronic ignition modules started to fail on the Toyota Camry.  Toyota implemented a program that enabled independent shops to help with the replacement program. The cars were back on the road quickly and the customer was happy.
Toyota took care of their customers and by the end of the decade was selling more cars than some American manufactures that had led the market for years.
Ford's short-sighted approach is sad. They should learn from their competition. Perhaps if they were a more ethical company then they would understand.