Trust + Experience + Checks + Balances + Respect = High Quality Car Repairs
Brian England, Thu, Jun 22, 2017
A few weeks ago I was approached with three different questions.
A customer asked me:  "What do think about installing a code reader in my car?  I want to know the shop has repaired the right system." 
One of our technicians asked me:  "Why didn't the customer respect my decision? He asked questions that showed that he didn't understand the complexities of repairing his BMW, yet he still didn't trust me." 
Another technician mentioned: "I tried to explain why I needed to replace these additional parts, but it's highly technical. Why doesn't he [the service writer] just take my word for it?" 
Though somewhat different on the surface, all three questions have something in common; they all relate to TRUST.
Trust is something we seek to build as an important part of the process of getting to know a business, particularly a service business.  It is also something we work to build on an ongoing basis with our fellow employees. A necessary component in building consistent, high-quality processes is the implementation of checks and balances, but there is a fine line between practicing policies that rely on checks and balances and being perceived as not trusting the word or work of a fellow employee or service provider.
In the case of the customer who wanted a code checker, he wanted to have a "check/balance" that he could use to tell him what system had failed rather than relying on the repair facility to give him accurate and truthful information.
Also, in the second question, what led to the customer to not trust a highly skilled technician with 20 years of experience?
And in the last example, should the service writer have just "taken his word for it," or was he following an established policy that required him to take a different approach.
These questions remind me of a story I once read where the famous brain surgeon, Ben Carson, when in the height of his career, had to answer questions from an insurance company questioning his decisions!
So how do we build trust? 
I believe it starts with understanding other people's careers and the complexity involved in mastering them as well as understanding the need for checks and balances, when they are necessary, and when they aren't. Then, when we communicate, we should do so with trust and empathy.
Not long ago there was an article in the New York Times on the shortage of skilled labor in the automotive repair field and the movement to train students. It mentions how students have to be able to problem solve and be critical thinkers! Hands-on skills are still just as important as understanding the theory behind the system being testing. Both are essential.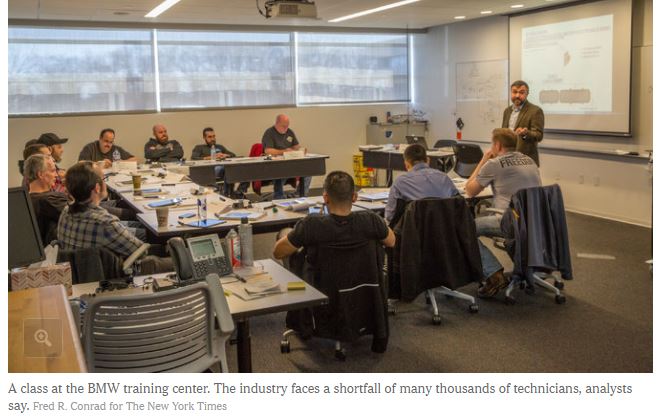 All that I have been writing about came together in a recent job. An Audi came in with a "check light" on. The codes and more importantly, the data that led to the code being triggered were analyzed. Service updates were searched and downloaded. The electronic system pointed to a fuel pump issue, specifically, low fuel pressure. This is the point in the process where the technician's problem-solving skills came in! A less experienced technician might have recommended a fuel pump replacement, but in this case, our technician kept trying to figure out why the pressure was low. The service update mentioned worn engine parts could cause this, so he recommended taking the engine apart and inspecting it for wear. It turns out that worn parts are what caused the problem. You would think it ended here, but to make sure the repair would be a lasting repair, based on his experience, the technician recommended additional parts thereby preventing another repair down the road. 
Iin this instance, the code reader may have pointed to a repair of the wrong system.  The Audi driver may not have understood why the engine needed to be replaced when the code suggested a fuel pump. And lastly, the service writer may not have understood why the technician recommended the additional replacement parts.  Yet, this was the course of action that would result in the best repair strategy for the customer.  And, in this case, we lucked out. There was trust between all parties, and we ended up with the best outcome.  Our experienced auto mechanics coupled with our quality processes are behind why we can offer a three-year/36,000 mile warranty on all repairs!