Are You Prepared For a Mental Health First Aid" Emergency?"
Brian England, Tue, Mar 27, 2018
This is the first article in a series we are producing entitled "Looking Out For You and Your Car."
To provide BA Auto Care customers with the most efficient and affordable service, we spend a great deal of money on equipment and software. We know that having the right technical resources is critical to efficiently delivering high-quality service, but we also know that without great employees, all that equipment and software wouldn't translate to much. That's why we also invest in our most important resource, our employees. We know that a safe, healthy work environment, good wages and benefits are critical to employee job satisfaction. These factors play a huge role in employee happiness and performance.
Like many other businesses, on the safety front, we have processes in place to promote workplace safety, and have a first aid kit around to ensure that if there is an accident or mishap on the job, we can take quick action. But what if the problem isn't related to physical health or trauma?  What if it's mental health?
A recent initiative at our auto shop really shined a light on the importance of mental health.  We had hired a company to help us fine tune our communications to ensure that our office, reception, workshop, and management processes work as efficiently as possible. Our entire staff met with the consultant, and after the meeting, we received feedback from several employees on how there was an unexpected benefit to the meeting. The information provided had helped them with communications within their own families. One employee shared with us that it helped him to get help in dealing with a personal issue that was worrying him.
Not long after that, I attended a meeting with the Howard County Local Health Improvement Coalition (HCLHIC), and the subject was "Mental Health First Aid." I was all ears! The presentation reminded me of the benefits our staff had gotten from our experience with the communications consultant.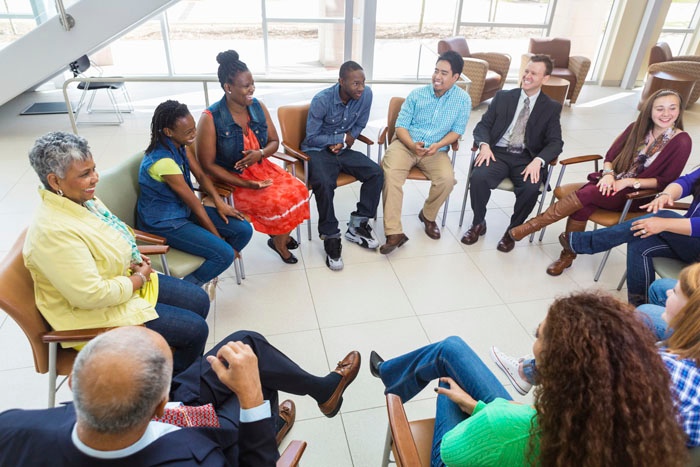 The HCLHIC presentation was by a teacher of "Mental Health First Aid" classes. She gave us several examples of how mental health first aid techniques helped her and her students. The instructor shared how, equipped with knowledge gained from the mental health first aid course, a course attendee was able to recognize symptoms in a friend and get help for her. She also used the skills to talk with her own daughter, thereby preventing a serious problem. Then, John Way, U.S. Army Veteran and Owner of Jiffy Lube #722, shared how the class had helped him have more empathy for his employees, most of whom were veterans. These classes can help all of us! Plus, with the recent national attention on issues related to mental health, the focus on "Mental Health First Aid" comes at the right time.
If you are interested in learning more about "Mental Health First Aid", there is a course coming up right here in Howard County on Thursday, April 5, 2018. This eight-hour course is free for Howard County residents, and is offered by Grassroots Crisis Intervention. . You can sign up and learn more here.  If you can't make the April 5th course, Howard County General Hospital is offering a course on Friday, April 13th.  You can sign up for the April 13th course here.
Both of the courses are offered by members of the Howard County Local Health Improvement Coalition (HCLHIC). Their mission is to identify and reduce health disparities and achieve health equity among Howard County residents. Using local health data and input from stakeholders from throughout the County, the coalition developed a 2018-2020 Strategic Action Plan, setting aims, goals and process objectives for four key priority areas – Access to Care, Behavioral Health, Healthy Aging and Healthy Weight. You can learn more on their website at www.hclhic.org or follow them on Twitter and Facebook @hclhic