Move in May
Brian England, Tue, May 15, 2018
We are in the middle of May, have you boosted your outdoor activity level yet? 
The shift to warmer weather has many of us focused on enjoying more outdoor activities. In fact, May is National Physical Fitness and Sports Month and this week is National Women's Health Week.  Getting active is a great way to give your health a boost!
If you are procrastinating on getting your outside activities in gear, a fun event that can get you moving is Bike to Work Day.  It is this Friday, May 18, 2018. If you are in Howard County, the primary event for Howard County takes place at the Whole Foods Parking lot in downtown Columbia from 7 AM to 9 AM.
This year is the 21st Bike to Work Day. Over the years, I have met friends and customers at this event. It's a lot of fun to share this activity together. The photo below is from the 2016 Bike to Work Day.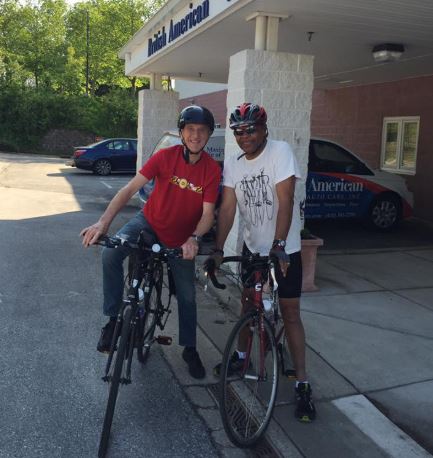 People often poke fun at me saying, "What's an automotive shop owner doing riding a bike to work?" It seems counterproductive, but it's not. Transportation is evolving. We are starting to pick different ways to get around. The relationship between walking, running, biking and the mechanical ways of getting around have started to become more integrated.
At BA Auto Care, some customers drop off their cars and then walk to work. Others pop open the trunk, pull out their bike and ride to work. Some walk up to the gym and spend an hour working out while we perform a service on their vehicle. Also, we have a bus stop next to our workshop on Gerwig Lane, so when customers drop their cars off after hours, they have the option of catching a bus home. 
As a society, we have become so dependent on our cars. Including some sort of exercise with your transportation mix is good for you. But when you pick more healthy ways to get around, don't forget to take your car out for a good run! The internal combustion engine used in most cars is great for long road trips, but it's not so good for short trips that include a lot of stop and go! Ideally, to keep you and your car healthy, walk and bike locally and use your car for longer trips.
The Howard County Local Health Improvement Coalition (HCLHIC) is promoting #MoveInMay also.  Check out their May calendar for some activities that can get you moving like Walking With Ease or We Walk for Wellness.
And, here are a few tips from the HHS.gov to help you get moving in May.
Replace your coffee break with an outdoor walk.

Park your car far away to get the benefit of a longer walk.

Instead of calling a friend on the phone, go for a walk together and chat.
There are even more tips on ways to incorporate activity into your day on the HHS.gov website.
We hope this article encourages you to get outdoors and #MoveInMay.