14 Helpful Inclement Weather Auto Safety Tips for 2013
Dorothy George, Tue, Jan 08, 2013
Let it Snow. Let it Snow. Let it Snow.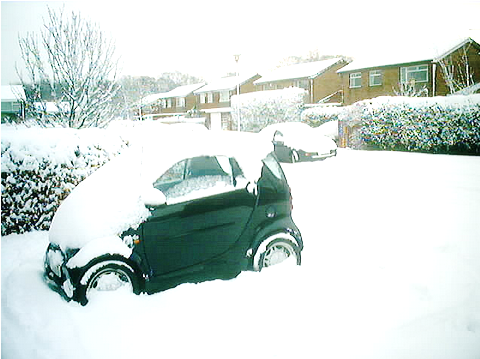 If the past few weeks are any indication, it appears that we may be in for some winter weather after all. Are you prepared for the possibility of unexpectedly getting stuck? Get ahead of the game by doing a bit of advance planning.
Here are several winter auto safety recommendations:
Include an "ICE" (In Case of Emergency) person in your mobile phone contact list. This will make it easier for emergency personnel to know whom to contact in the event of a serious situation.
Flashlight and batteries are always helpful now that Rudolph isn't available to throw some light on the subject.
Charge up your phone before leaving, but keep a charger in the car to help maintain connectivity as long as possible.
A book of maps, in case GPS isn't available.
Granola/protein bars are small and handy.
Extra socks! These can be extra mittens if you happen to have left yours behind.
A spare blanket will help keep your body temperature warmer.
It's best to have 1 gallon of drinking water per person per day.
Do you have any daily medications? Make sure an extra bit is available if you have an upcoming road trip that could take longer than expected.
Auto jumper cables for that extra boost.
Make sure your spare tire is good and that you can find the wheel lock key if needed. (When your vehicle comes in for service, we typically put it in a 3×4-inch cloth bag and label it.)
Traction assistance such as kitty litter or sand.  This is placed near the wheels to help gain traction in case you get stuck in an icy snow pack or just on ice.
Orange cones to help increase the visibility of your vehicle on the side of the road.
 Keep an ice scraper handy.
If you know of other helpful suggestions, just leave us a comment on this post!  We would love to hear your suggestions.
A few non-emergency items I keep in my car are: toiletries, hand wipes, Altoids, and a book. (Mysteries and P.G. Wodehouse are my go-to books when I'm looking for a light read.)
And last but not least, here are a couple phone numbers to keep handy in your phone or glove box:
ACDelco Roadside Assistance: 1-800-ACDelco, prompt 3.
BA Auto Care after-hours emergency help: 1-800-283-9739.
Photo courtesy of Glen Bowman's photostream.