Driverless Cars – Coming Soon to a Parking Lot Near You
Brian England, Mon, Nov 18, 2013
So this is how it goes…
You drive to your favorite store entrance.  Hop out.  Your car then drives away and finds a parking spot. When you have finished shopping you press the remote, and the car will find its way back to the store entrance to pick you up.
Is this far in the future? No. It is coming very soon to high end vehicles. The autonomous vehicle (a.k.a. the self-drive car) is here now and being tested in towns and on the highway.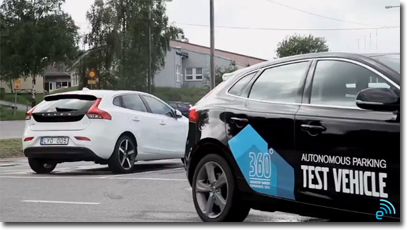 Volvo plans to have a completely self-driven car before 2020, and their accident avoidance systems will be introduced in 2014.
Mercedes-Benz has a self-driven S-Class car that can deal with traffic lights, roundabouts, pedestrians and cyclists right now. They tested it on a 60 mile trip that included both an inter-urban and an urban route.
Not to be left out on this side of the Atlantic, Goggle has been working on perfecting the technology for their Toyota Prius fleet and Tesla is also in on the race to produce self-driven cars.
By the end of the decade parking lots are going to be a whole lot safer — no more mixing cars and people. All those far off parking spots will be used. Property owners will be able to use their property more efficiently, providing us with a safe, car-free environment.
We will let the cars do the parking, and we will do the shopping.