There is Something Hanging Under My Car!
Brian England, Tue, Apr 29, 2014
"There is something hanging under my car."
I have heard this said to me many times. It is usually said with a sense of urgency and concern. Well the good news is, most times there's not much to worry about — unlike in the 1991 movie classic, Cape Fear, where the movie's villan, Robert DeNiro was hanging under the car.
The most common things you'll see hanging underneath your car are:
Exhaust Heat Shields – If the exhaust heat shields begin to rust, they can hang down low underneath your car.
Plastic Bags – Plastic garbage bags or other types of plastic bags that you roll over or that blow under your car can get caught on the exhaust and subsequently melt, causing them to hang from the underside of the car.  Check out this blog we did on exactly this topic.
Plastic Shields – There are different types of plastic shields that can be found underneath a car.
Some plastic shields are installed under the car to make the underside of a car more aerodynamic. The size of these underside vehicle shields can range from something small (less than a square foot) to a shield that stretches the entire length of the car between the front and rear wheels.

The plastic shields that sit right at the front of the car under the radiator. 

The shields that make up the inside of the wheel well. 
The most common way for these shields to become damaged is by a driver hitting a high curb or a parking safety block. The shields can also become damaged by being hit by something while on the highway.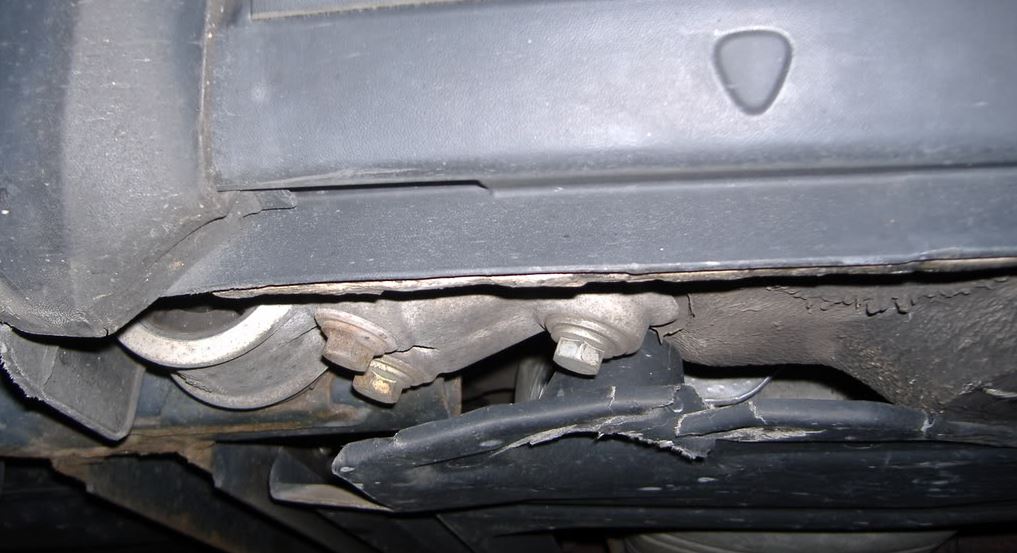 Once damaged, the underside vehicle shields act like air scoops, and the air forces the plastic down even lower. Additionally, at times the little plastic fasteners used to afix the shields can break, making matters worse.
Hybrid vehicles have more complex underside vehicle shields. If any of these fall down, not only can they trap air, they can act as big scoops in a snow storm, packing snow in between the shields and the floor pan.
Repairs to a cars plastic shields can range from something as simple as installing some plastic retainers and clips if the problem is caught early enough to replacing the entire sheilds.
Checking and securing these shields underneath your car is very important and should be part of a regularly scheduled preventive maintenance program.
If you see something hanging under your car, take it to an automotive service and repair facility so they can check it out.  The sooner you take it the better.  It could ultimately save you quite a bit on the repair expense.
If you would like to have your car checked out, stop by our shop just off Snowden River Parkway in Columbia, MD.  If you know there's a problem, go ahead and give us a call at 410-381-2700 or click on the link below to schedule an appointment.