How Can I Keep My Car's Cabin Air Filter Clean?
Brian England, Mon, Nov 17, 2014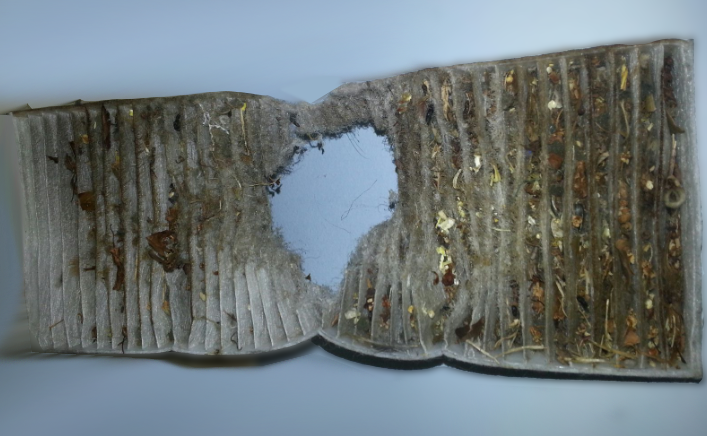 What is the cabin air filter?  It is the pleated, fibrous filter that cleans air that comes into the interior of the car via the heating, ventilation and air conditioning (HVAC) system. It keeps the air inside your car free of contaminants.  Some cabin air filters even trap odors.  When this filter gets clogged, your car's HVAC system may not work as efficiently as it should.  That's why it's an important filter to monitor.
You should note, there are other filters in your car, specifically, the air filter that keeps contaminants from entering your car's engine and the fuel filter that keeps contaminants from clogging your car's fuel system. These are three different filters. The photo above is of a cabin air filter that needs changing.  This one is clogged with debris and has served as a supply source for a rodent's nest. (This is not as unusual as you may think).
Typically, auto manufacturers recommend a replacement annually or every 15,000 miles, but this can vary depending on the environment you drive in and the level of dust and debris in the air.  Air goes through these filters whether you car's HVAC system is on recirculate or it's pulling in air from outside.
What causes the filters to get clogged? In this area of the country, the biggest contributors to dirty air filters are dog hair and trees, though in other parts of the country where there are desert environments, dust can be a big contributor.  Air from the interior circulates through the filter and dog hair can get matted across the filter element. Similarly, debris from outside like seeds, acorns, pollen and leaves migrate through the fresh air intake and clog the filter. One of the ways to tell that your car's air filter is clogged is if you notice a decrease in air quality or a decrease in air flow through the vents.
How do I keep the cabin air filter clean? Like many things related to keeping your automobile in peak condition, following a regular preventive maintenance schedule is probably the best thing you can do to keep the filter clean.  Cleaning this filter after spring and fall can prolong the filter element's life, so now (or certainly a few weeks from now) is a good time for having it checked as in some areas, many of the trees are already bare. In our auto shop we clean this filter as part of all our preventive maintenance services, so if you are getting you vehicle serviced regularly, you're probably okay.
If you're handy with do-it-yourself tasks, you can vacuum out the air filter yourself. Check your vehicle manual to find the location of the cabin air filter. In some cars it's fairly easy to access — for example, right behind the glove compartment, but in others you may need tools in order to access the filter.
Happy filtering!
Are you behind on your auto maintenance?  Schedule an appointment today.
Want to know more about auto service at BA Auto Care. Download our Services Booklet.