Hit a Pothole? Check Tires, Wheel Alignment, Suspension & Steering
Brian England, Wed, Mar 18, 2015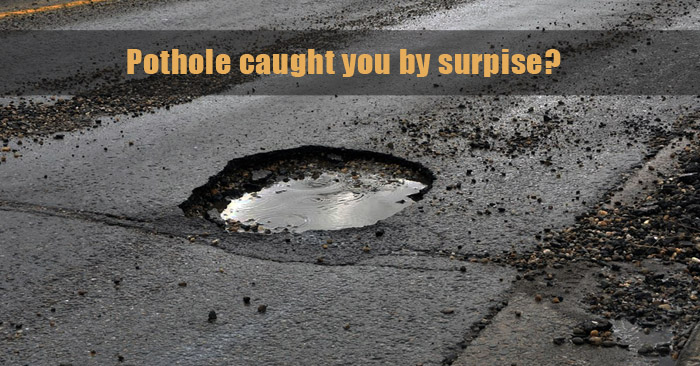 Know what season it is?   Pothole season.
All the melting snow has left behind a wonderful gift.  POTHOLES!
In some places around the city, it's more like driving around an obstacle course.  The important thing to remember is that sometimes potholes can do a lot of damage, so it's important to be cautious and avoid them.  It may mean driving a bit slower, but it is worth it in the long run.
If you hit a pothole and notice that your car seems to be veering off to the left or right, it's a sign that there is a problem.  Cars just don't go out of alignment by themselves.  Something has to happen to cause it, and if you hit a pothole, it's the likely culprit.
Here are some things to check should a pothole catch you by surprise.
1) Check your tires and rims for damage.  (Uneven tire wear can also cause an alignment problem.)2) Check the underside of your car for visible damage.
2) If you notice that the car isn't steering straight, have your auto repair shop check the steering and suspension before performing a wheel alignment.  Sometimes these can be damaged when you hit a pothole. Car wheel alignments are completed after repairs to steering or suspension (if they are needed).
So, be careful out there.  An ounce of prevention is worth a lot of dollars.
And, be sure to report the pothole.  If you live in Howard County, MD you can download the Tell Ho Co App or just report it on the SeeClickFix site.
For more info on alignments, check out our web page on auto wheel alignments.
If you live in the Columbia, MD area, and think you may have damaged your car, schedule an appointment to have your car checked out.