Do Auto Repair Diagnostic Forms Really Matter?
Brian England, Mon, Jan 23, 2012
When we started performing complicated auto repair diagnostics we were the first auto repair shop in Columbia to offer diagnostics forms online. Here are 6 commonly asked questions that we get asked about the diagnostic forms and the answers.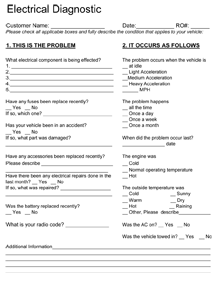 Q:  Why are diagnostic forms important?
A:  They are important for the following reasons.
They help to clearly identify and define the problem.
They make the customer more aware of what is involved in diagnosing the problem.
They cut down the diagnostic time and therefore the price of the job.
They allow the technician to know just what you are experiencing.
Q:  What if I do not know anything about cars?  Can I still use the diagnostic form?
A:   You can still use the forms; you do not need to know anything about cars to tell us what you are experiencing.  The forms are easy to understand so you can gather information for us.
Q:  What parts of the car do you have diagnostic forms for?
A:  We have forms that you can download for most of the things you are likely to come across. Here is a list and the links.
Q:  It sounds like it is complicated
A:  It is not complicated, it is more like a partnership,  We work together to gather information so that we are going after the right problem.
Q: I am not sure what form to use; what do I do?
A:  We can help with that, give us a call and we will talk about the symptoms you are experiancing and we will guide you to the right form.
Q:  Do I have to do it this way? Can I just bring my car in and talk to you personally
A:  Absolutely, we can go over the problem and take a test drive.