6 Things You Need to Know Before You Get Your Punctured Car Tire Repaired
Brian England, Tue, Feb 21, 2017
Need an automobile tire repaired?  Know what's acceptable when it comes to repairing your tires.  Not all tire punctures are created equal; some can be repaired, and some can't.  Car tires that are improperly repaired can fail and result in an accident.  For example, this photo shows an example of a repair that should never have been done.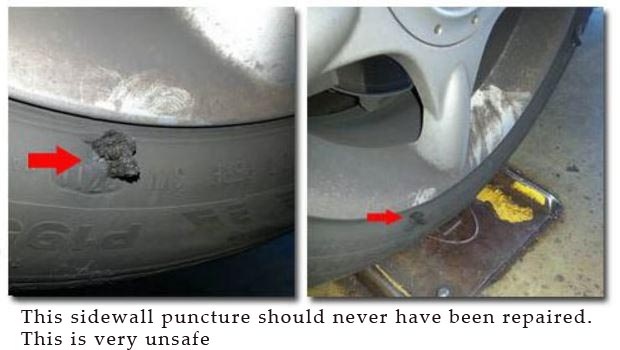 What is an acceptable tire repair?  Here are some guidelines.
1. Only repair punctures that fall within the tread area. First of all, you need to take a look at where the puncture area is.  Repairs should be limited to the tread area only.  If a repair is beyond the tread area (see the photo below) on the side or along the edge like in the above photo, then the tire should be replaced. Do not make or allow a repair.  A reputable tire repair shop would not agree to perform an unsafe repair.
2. Replace tires with punctures greater than 1/4″ in diameter.   When it comes to tire punctures, size is important. If the damage resulting from a tire puncture is bigger than 1/4 inch in diameter, it is not safe to complete the repair.
3. Don't get a tire repaired if the treads are less than 1/16 inch or if it is badly damaged.  There's no sense in repairing a tire that shouldn't be on the road in the first place.  If the treads are less than 1/16 inch, then the tire isn't safe for road use;  it's time for a replacement. But, there are other times when a replacement is called for. We posted this photo on Facebook recently showing a tire where the tread depth is okay, but the tire is badly damaged. The orange circle shows the small cracks caused by dry rot. The pink circle shows where chunks of the tire tread are missing. If your tire has either one of these problems, replace it versus repairing it.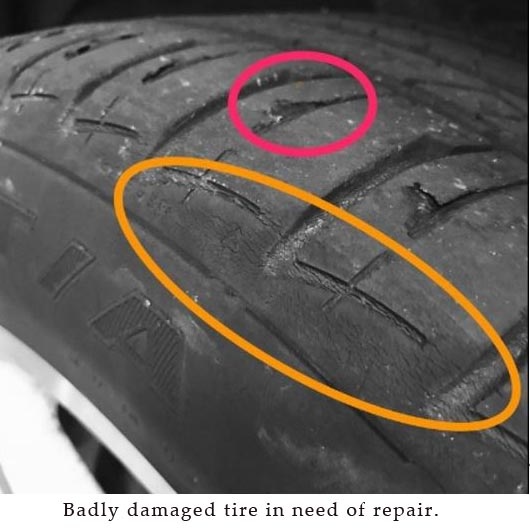 4. Make sure that the professional repairing your damaged automobile tire removes the tire from the rim in order to fully inspect the damaged area.  The inner liner may have sustained damage that is not visible from the outside.
5. Ensure that your tire is repaired properly with a patch and plug assembly.  A plug alone is not an acceptable repair. The photo below shows the type of patch/plug assembly that should be used (on the right) versus one that should not (a plug only on the left).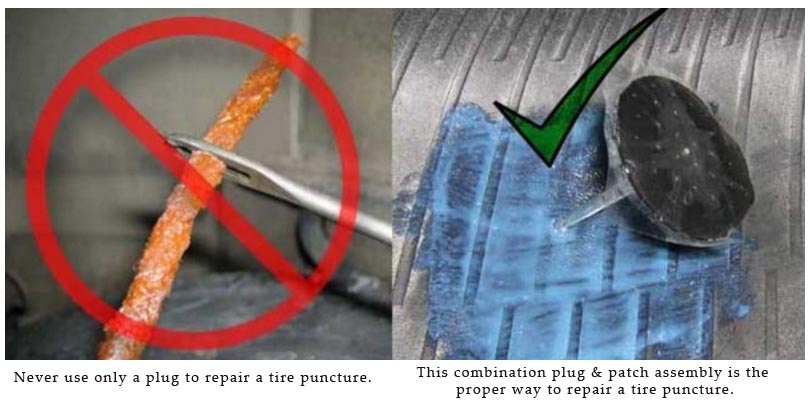 6. Don't overlap repairs.  If a new puncture is in the same place as an existing repair, then the tire should be replaced.  Don't have it repaired.
Depending on the type of tire you have, there may be some other limitations or restrictions on repairs.  Be sure to take your damaged tire to a professional for repair or replacement.  For more information on safely repairing tires, check out the Rubber Manufacturers Association website at www.betiresmart.org or stop by BA Auto Care. We'll take a look at your tire, and let you know if you have an unsafe repair.
Note: This article, originally published back in 2012, has been updated.