Preventing Falls in the Auto Shop and At Home
Brian England, Tue, Apr 10, 2018
This is the second article in a series we are producing entitled "Looking Out For You and Your Car."
At BA Auto Care we are all about prevention.  We encourage all of our customers to practice preventive maintenance on their vehicles, and we put quality control processes in place to prevent mistakes. But our prevention efforts don't stop at cars.Having a safe working environment for our employees is just as important as doing a job right the first time. For two decades, back in the shop, we have used a simple reusable 2' by 2' mat to soak up spills and reduce the chance of falls. We also keep our work bays clean. Not only does this "look nice," but what's more important is that it helps to prevent falls. Taking steps to ensure a safer workplace makes good business sense because it means our work force stays healthy and our workman's compensation rates stay low. Having a staff of reliable, healthy employees means we can provide you with affordable quality automotive service and repair.
I was reminded about the importance of fall prevention by a recent Howard County Local Health Improvement Coalition (HCLHIC) newsletter where fall prevention was the lead topic. Fall prevention is important not only in the workplace but also at home and in the community.  In fact, falls are the leading cause of injuries in the elderly population. According to the National Council on Aging, one in four Americans, aged 65 and older, falls each year.  That's a lot of falls we can help to prevent!
HCLHIC did such a great job of providing tips to help prevent falls, that we've included them below as an infographic.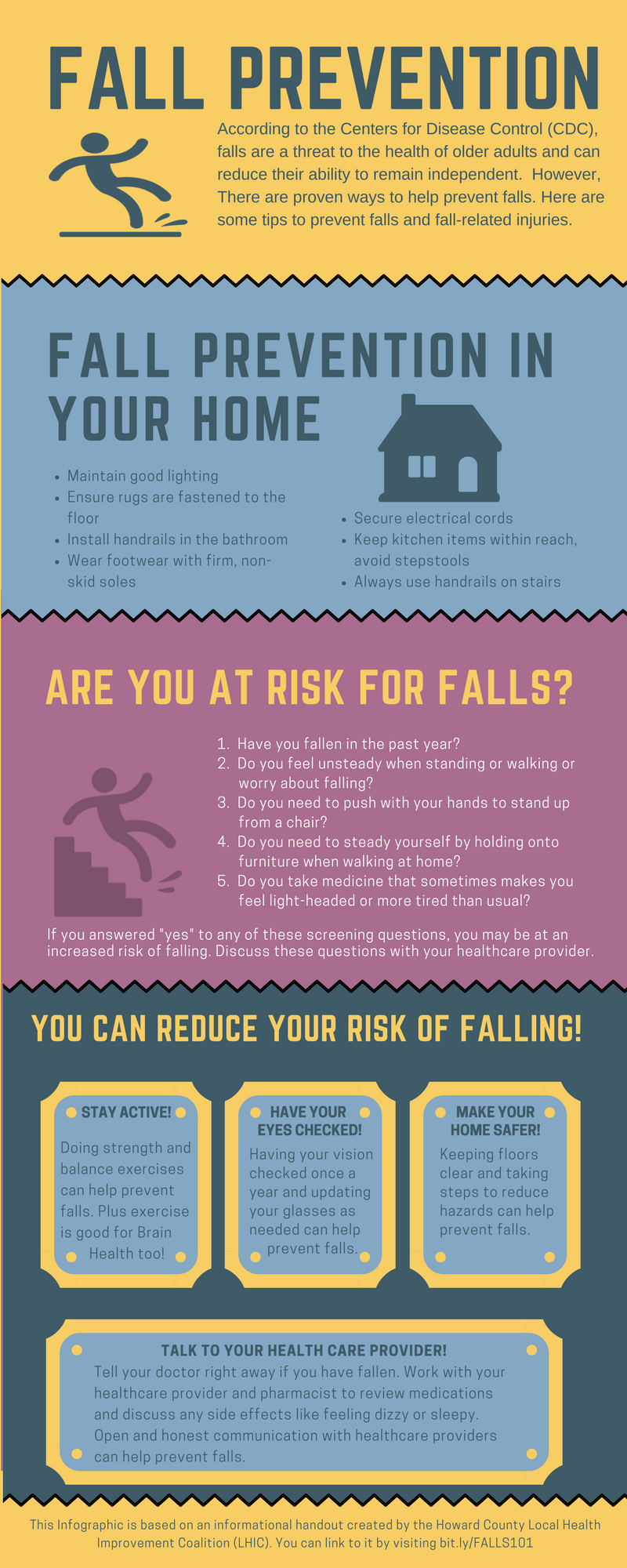 You can find the actual HCLHIC guide here.
One way to avoid falls is to have a good sense of balance.  Having good balance can help you to stay upright in case you accidentally slip or trip. This article, "Why You Need to Test Your Balance (Plus 3 Exercises to Improve It), provides three ways that you can test your balance. One of the tests involves closing your eyes and balancing on one foot. If you think this might pose a challenge be sure to have a chair nearby to hold on to.  They suggest that if you are aged 61 or older, you should be able to hold your balance for 10 seconds!  Can't do this?  Don't worry. If you practice for a while, you should see your balance improve. This article from the National Institute on Aging provides exercises you can do to improve your balance. I like this link because it has precautions in place to prevent falls.  After all, you don't want to fall while testing your balance!  Here's an example of one of the exercises.
As with auto service and repair, when it comes to falls, prevention is better than cure. There are many programs in Howard County to help with balance and fall prevention. Contact Maryland Access Point (MAP) via email or 410-313-1234 (voice/relay) to learn more about the Better Balance and Stepping On programs going on! . You can also learn about other resources for Healthy Aging in Howard County here.
Here's a word about the Howard County Local Health Improvement Coalition (HCLHIC). Their mission is to identify and reduce health disparities and achieve health equity among Howard County residents. Using local health data and input from stakeholders from throughout the County, the coalition developed the 2018-2020 Strategic Action Plan, setting aims, goals and process objectives for four key priority areas – Access to Care, Behavioral Health, Healthy Aging and Healthy Weight. HCLHIC invites you to join them! Learn more on their website at www.hclhic.org or follow them on Twitter and Facebook @hclhic.