How Much to Replace a Headlight Bulb & Brake Light on a 2010 Mercedes?
Brian England, Tue, Apr 24, 2018
It sounds like an easy question to answer doesn't it? In fact, when people bring their vehicle in for a headlight bulb replacement, they expect to be in and out quickly, but that's not always the case. With cars built in the last decade, a simple task like changing a headlight or brake light bulb can be much more complicated than before. Gone are the days when an auto mechanic could wander out to a vehicle in the parking lot, lift the hood, change the headlight bulb and be back in the office in five minutes!
A case we dealt with recently on a 2010 Mercedes was a prime example of this.
In this particular case, first, the mechanic had to access the onboard computer system and put the headlight system into "service mode." The next step was to remove an access panel and install the bulb.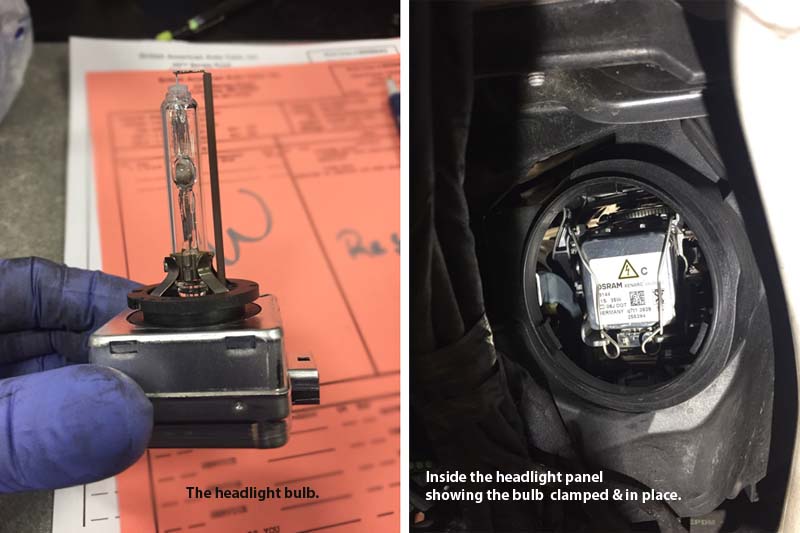 After testing to ensure that the bulb was working correctly, he reinstalled the panel and changed the system from "service mode" to "normal driving mode." The problem was that in this case, the bulb failure light was still on!
Our next step was to consult with the customer to see if we could get more details around when the warning light had come on. As it turns out, the customer shared that the warning light had come on weeks before the headlight failed. The customer had checked, couldn't find a bulb that was out, and so, kept on driving. However, when he noticed a headlamp out, he brought the car in to get it replaced.
It seemed that what the customer had experienced was happening again in the shop. When we first checked, it seemed that all the headlights and tail lights were working properly. Then we noticed that the European red rear fog lamp was coming on when the brakes were applied. That wasn't supposed to happen!
The auto technician then checked the computer monitoring system and found that a brake light bulb had failed, but the computer system had rerouted power to the rear fog lamp! That's technology for you! In this case, the car had a backup system for the brake light failure.
Our next step was to replace the brake light bulb and reset the system. Finally, all problems were resolved! But clearly, this was not a ten-minute process. In fact, it required an hour of labor, so the customer was charged for an hour of labor, plus parts, about $150.  Compare this to an uncomplicated bulb replacement that can cost under $50.
If you keep your car for several years, you will likely have to replace a bulb. Remember when you call for an estimate for a bulb replacement, don't be surprised if you are asked to come in to have the system checked first before receiving an estimate. Even after that initial assessment, as happened in this case, there can be surprises. If you happen to have a combination of problems that involve the computer monitoring system as well as a mechanical failure, you might incur an additional expense.
In fact, a while back, we wrote a blog post on this same topic, but in this case, the customer had tried to replace the bulb on their own and things went very wrong!  Headlight bulb replacements are just one of those areas that people perceive to be simple, and therefore they are surprised when the bills come in higher than anticipated or when they try it themselves and run into problems.
We hope this sheds some "headlights" on the issue!