Mobile Auto Service – The Pros and Cons
Brian England, Mon, Sep 17, 2018
Not too long ago, I was testing a car down Berger Road when I saw a man working under a school bus! He was changing the oil on the street! This got me thinking about mobile vehicle services. Some mobile automotive services are already common, such as mobile detailing and mobile windshield and glass repair; but what about mobile mechanics?
Mobile mechanics have increased in popularity over the last 8-10 years. This trend has likely been influenced by economic necessity stemming from the recession as well as the shift towards customer convenience.
A few companies in Columbia and throughout Howard County offer mobile mechanics. It's easy to see what attracts people to this service, but how do the pros weigh against the cons?
Let's take a look.
PROS
1. Price: Mobile mechanics do not have the added overhead of a facility and associated equipment. The resulting lower costs can save customers 20-30%.
2. Convenience: Mobile mechanics come to you at home or at work. This eliminates the need to take time from work, school, or other responsibilities in order to service your car, and can save you a significant amount of money.
3. It makes sense: This mobile option is ideal for certain preventive maintenance jobs that don't take too long.
CONS
1. Limited access to the larger equipment needed to service vehicles: 
Lifts: Mobile mechanics may not have access to the lifts that allow for inspection of a car's underside.  This step is very important, so ask if they have a professional quality lift rather than a jack and stands as with the mobile mechanic featured in the photo below. A jack and stands  can be dangerous on uneven surfaces especially on the side of a road.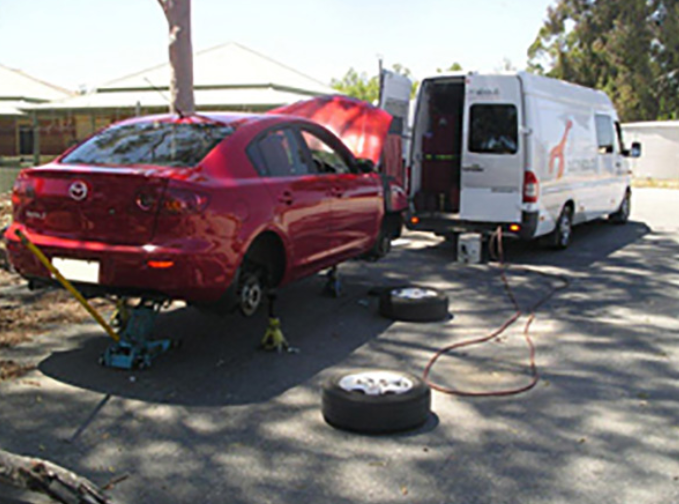 Professional grade balancing equipment: This equipment for balancing tires and aligning vehicles cannot travel with the mechanic.
2. Fewer resources: There is no one around to provide help if the mechanic needs a second hand or a second opinion. (Though with smartphones this is not such an issue now.)
3. Lack of more complex tools: Some factory equivalent scan tools cost so much they are out of reach for mobile mechanics.
4. Limitations based on job size: Larger jobs- those that require removing the interior of a car, for example- would be impossible to do in a driveway.
5. Limitations due to weather: Limitations in emergency situations.
6. In general, mobile mechanics are a good option for consumers who are looking for convenient and affordable car servicing rather than repairs.
When searching for a mobile mechanic, remember to:
Check for certifications like ASE.
Read reviews on Google, Angie's List, and Consumer Report.
Ask for references.
Confirm that the parts and labor have a warranty.