Save on repair bills by keeping your air intake system, trunk seals and hatch seals clean
Brian England, Fri, Jul 26, 2019
You can save thousands of dollars in repair bills by properly maintaining the ventilation air intake system and keeping the trunk and hatch seals clean on your vehicle. If you're a BA Auto Care preventive maintenance customer, we perform the services needed to prevent the following issues from happening:
Electronic Control Module failure
Damp and mold smell
Leaks into the trunk and rear hatch area
Poor interior air flow and quality
Blocked air conditioning drain tube
Poor ventilation
Intermittent electrical problems
Sunroof leaks
Cabin filter maintenance period
Lower heating and air conditioning system performance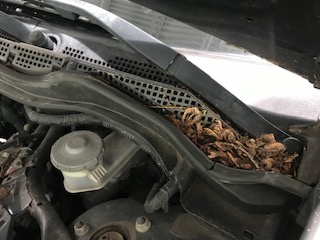 As part of your BA Auto Preventive Maintenance Services Program, we will keep your vehicle running smoothly. From the smallest service to the largest, we always include cleaning the vent areas. This is especially important for those who leave their vehicle outside in wooded areas! Which includes most Columbians!

This service is very important after the Fall season. If you clean up leaves in your own yard, then don't forget your vehicles! After the final leaves have fallen lift the hood and blow out the leaves and debris that has accumulated near the windshield, sunroof and trunk (hatch) . If you can't remove it all, don't worry. We will do it the next time you are in for service.
Preventive Maintenance is not just about changing your vehicles engine oil it's about maintaining the complete vehicle.