Does Your Car Have a Timing Belt or Timing Chain?
Brian England, Mon, Nov 04, 2013
Does your car have a timing belt or a timing chain?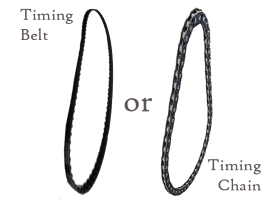 It makes someone very happy when they call for an estimate for a timing belt replacement on their car and I tell them their car has a timing chain! If a customer has experienced a timing belt replacement before, they know that they have to plan for an expensive repair. Timing belts can cost anywhere from a few hundred to over a thousand dollars to replace.
As the modern car engine became more complex so did the timing belt and timing chain configurations. To make small engines perform like sports cars, variable timing and twin overhead camshafts are used.  The belts or chains to drive these complex systems require a very skilled technician to be able to adjust them correctly.
So, if you have a car with a timing chain then you are off the hook for replacement because these chains last the life of the car IF you change your oil on time.
On the bright side, timing belts are changed every 90,000 to 100,000 miles now.  A few years back it was every 60,000 to 90,000 miles.
The other reason for the high cost associated with timing belt service is that when a car gets to 100,000 miles, other items need to be addressed at the same time as the timing belt. These include:
Water pump
Seals
Drive belt for the air conditioning compressor, alternator and power steering
The tensioner that keeps the timing belt in adjustment
Idler pulleys' that guide the timing belt
As you can imagine this laundry list of items adds to the cost of the timing belt job.  That's why on some vehicles it can cost over a thousand dollars for a servicing.  But, this does save money in the long run.  Taking care of these items along with the timing belt cuts the cost dramatically compared with going back into the timing belt area to do them later individually.
To see if your car has a timing belt or a timing chain, check out this link from about.com.