3 Common Problems with Mini Cooper Doors & Windows
Brian England, Sat, Mar 22, 2014
Are you having a problem with the proper operation of your Mini Cooper door or window?  If so, you aren't alone.  We've discovered a few common problems that some of our Mini Cooper owners have experienced that can be resolved by removing the door panel and making the needed repair.  Here are the types of questions we get that signal this type of problem.
My Mini Cooper driver's side window will not seal and it makes a lot of noise.  What is 

causing this?

My window is hitting the body; how do I adjust it?

I can't open my Mini Cooper door from inside the car.  How do I fix this?
If any of these questions ring true for you, then you're most likely experiencing one of the following problems:

The handle/catch cable has come off & therefore the door can't be opened from inside the car.
The window has slipped off the track and requires adjustment.
You have a defective door handle/catch.
Well, if you are an automotive technician, it could be an easy 1-2-3 process to identify the problem, remove the door panel and make the adjustment.
STEP 1: IDENTIFY THE ISSUE
STEP2:  FIND THE PROBLEM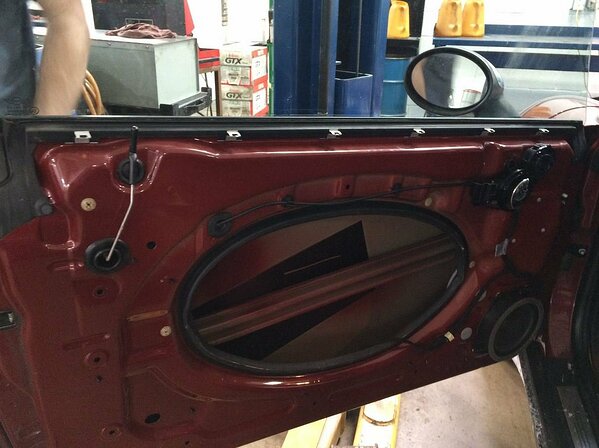 3. FIX THE PROBLEM
As you can see from the photos above, there is a large hole for you to work through in order to make any needed adjustments or repairs.
….BUT
If you aren't an expert auto mechanic, or aren't quite ready to dive into the door panel, there may be a few easier ways to find the solution to your problem. Additionally, some of the repairs can be tricky for someone not familiar with working inside doors.
If you are in this category, the first place you'll want to check  is www.mini2.com.  They have some great forums where you can talk with Mini Cooper owners around the world and find out if someone has some suggestions to help you with your problem.  Forum participants also suggest places on the web where you can find parts at great prices.  These forums are designed primarily to help Mini owners who can repair their own cars, but they also offer insight for the novice car owner as to what the problem could be & what may be involved in fixing it.  Notably, I think one of the most important things you can find by conducting a search on the web is common repairs that are covered by warranty or an extended warranty, particularly where there has been a pattern failure that is covered by the manufacturer.
So, if the handle only works from the inside or the window is out of alignment, you are likely experiencing one of the problems noted above.
Can't fix it yourself?  We can help you get your Mini Cooper back "on track". (Okay, bad pun.) But, if you're in the Columbia, MD area, just click below to schedule an appointment or give us a buzz.
If you aren't in the Columbia, MD area, and just want to stay up to speed on tips like this, just subscribe to our blog by completing the form on this page. We've gotten several questions on Mini Cooper repairs from our customers, so there are several more blogs in the works.  You'll see all the current titles outlined on our MiniCooper site page.
Don't drive a Mini?  Window misalignments or problems with door handles can happen with other vehicles also.