Preservation Focus: Reaching 200,000 Miles – It Takes a Little TLC
Brian England, Mon, Feb 09, 2015
We celebrated the tenth birthday of our white 2005 Dodge Caravan free courtesy shuttle van last year, and not long after that, in December of 2015, we hit the 200K milestone.
We purchased the shuttle van new back in the fall of 2004, and since that time we have only had one major repair.  Back in January of 2012, we had to replace the transmission.  At that time there were about 147,000 miles on the car, and it was just over seven years old.  A transmission replacement is not that unusual for a car of that age with that many miles on it. As it turns out, we had a problem with the transmission again in 2014, but it was still under warranty, so it was replaced at no charge.
The repair records also show a few times we completed a "Noise, Vibration, and Harshness" evaluation that ended with us replacing the stabilizer bar bushings (2006), replacing the serpentine belt tensioner (2007), securing the spare tire that was hanging low (2011), and replacing the T-belt & drive belt tensioner (2013) [ side note:  The first tensioner we installed was defective and had to be replaced.  Should this ever happen to you, the important thing to know is that if it's under warranty, the replacement is free.  Also, all repairs are covered by a 3-year / 36,000 mile warranty, and a defective part would fail during this period.] We also had to replace the left axle shaft a couple of times (2009) and (2011), but everything else looks like pretty standard maintenance.
Most importantly, the car was serviced with mini lubes (our 5K oil change service) or major lubes (the 15K, and 30K mile services) on a regular basis, and that's what allowed us to surpass 200,000 miles.  We keep handwritten notes in a file as well as computer records.  Here's a snapshot of the handwritten service notes on the van.  They serve as a quick reference check.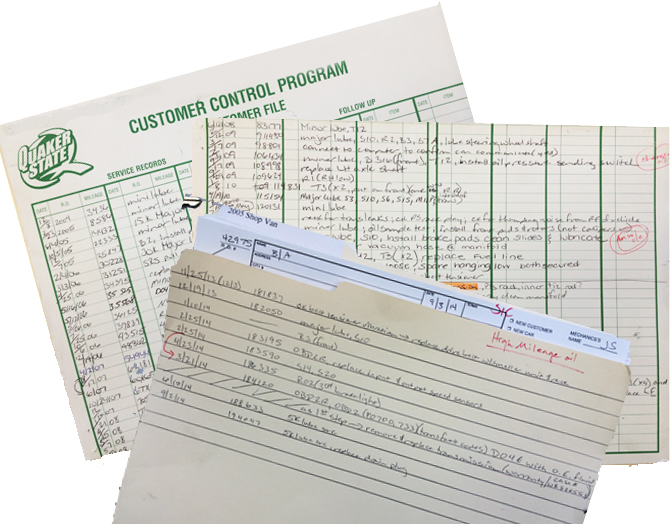 As your partner in caring for your car, we can help you provide the TLC needed to get to 200K and beyond! Then, once you're there, you can make the choice of whether to keep going or sell.
Need your vehicle serviced?  Don't hesitate to contact us.