Online Car Care & Pet Care … Something in Common
Brian England, Mon, Sep 26, 2016
Some mornings, we have high demand for our free courtesy shuttle van. When this happens, and the van is at capacity or out on a run, we also use the MINI Cooper to get customers where they need to be in a timely manner.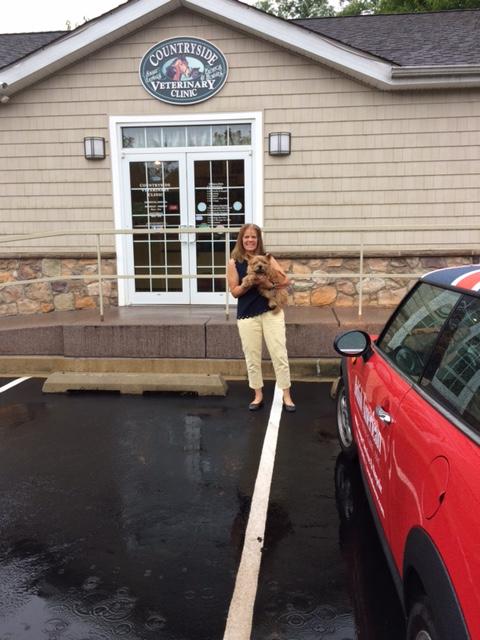 One morning I helped out. Not only did I give a customer a ride to work in the MINI Cooper, but I gave her dog a ride too! A very well behaved dog sat right in-between the two of us. The customer I gave a ride to owns  Countryside Veterinary Clinic in Ellicott City. On this particular morning, she was upset about an experience she had had with one of her Countryside Veterinary customers, and she had been up all night worrying about how to respond. It turns out; the Countryside Veterinary customer had given them a bad review because she found a cheaper antibiotic online and felt that Countryside Veterinary was over charging. The customer did not want to hear about why there was a difference between the online price and her local service provider's price.  She simply felt that the price differential was not justified.
I could understand this situation because we have had customers find parts online for their cars at half the cost of original equipment manufacturer parts. The problem is that all parts are not the same. Many manufacturers sell parts that look like original parts, even down to the packaging, but they do not perform same. Sorting out the good from the bad is difficult. It has taken us a long time to find and build strong relationships with parts suppliers who only sell quality original equipment quality or better parts. Now and then, we get tempted to purchase an online part because the prices are so low. This happened to me recently. The price of the part quoted was a quarter of the cost of the original equipment part. I thought, let's save this customer money, and we bought the less expensive part. Sure enough, it failed. I ended up having to do the job twice (at our expense of course).
All parts are not created equal. The the same goes for pharmaceutical products. The number of drug forgeries out there on the internet today is scary! I would not want to risk my pet's health by purchasing a pharmaceutical product online just because it was cheaper.
Of course, I would never compare a car to a pet, but I wouldn't want to risk my car's health either — not to mention the time and inconvenience associated with getting a job done over again due to a part failure.
It just makes sense to use high-quality parts and high-quality pharmaceutical products the first time!