Is Your Car a Victim of the MINI Cooper Low Oil Level Epidemic?
Brian England, Wed, Mar 29, 2017
1.  a widespread occurrence of an infectious disease in a community at a particular time.
2. an outbreak or product of sudden rapid spread, growth, or development
—————————————————————————————————————–
Based on the above definition, #2 to be exact, there is no doubt that we are experiencing an epidemic. Over the past year, we have seen dozens of Mini Coopers coming into our facility with a very low oil level. This is serious because it can dramatically reduce the life of a Mini Cooper engine!
Not long ago, we received a letter through our "Auto Answers For You" service. Connie, from Wisconsin, wrote in to ask about her son's 2011 MINI Cooper S. She came across our website while trying to find out how common carbon buildup is on MINI's. Her son's car had 70,000 miles on it, no previous owners, and they religiously abided by their maintenance schedule.  In fact, they had purchased the 100,000-mile maintenance plan when they bought the car. At the time of her letter, the car was in the shop because the check engine light came on. Here's a bit of additional history that Connie shared.
Mileage:  1,630   Problem:  Check engine light is on, and there is a misfire on cylinder 1
Mileage:  2,371 Problem:  Check engine light is on, and the problem is determined to be a loose gas cap
Mileage:  (not given)  Problem:  Update tensioner in recall
Mileage:  56,000  Problem: Check engine light is on for misfire again in cylinder 1. The spark plug was excessively worn and replaced.  There was oil in the solenoid connector but not DME, so it was serviced and replaced.  The oil pump was leaking and replaced.  The right axle seal was leaking fluid and replaced.
Mileage:  62,000   Problem:  Regular maintenance, had spark plugs replaced
Mileage:  70,000  Problem:  Check engine light on again, and the fuel pump needs replacing.  Additionally, there is excessive carbon buildup that needs to be cleaned, and the gasket needs replacing.
Connie told us that every time she or her son had work done on the car, they were told there was carbon buildup, and that it is common with these cars. The problem is, she was left with a huge repair bill, and she felt the problem should have been caught.  You know what? It should have been caught because the problem was with her maintenance plan that covered oil changes only every 10,000 to 15,000 miles.  Connie's religious adherence to her plan was exactly what caused the problem with her car. She wasn't getting the oil changed often enough, and the resultant, low engine oil levels likely caused the problems. But Connie got lucky; MINI covered the cost of the carbon buildup repair under her extended warranty!
The fact is carbon build up is an issue on its own, and to some extent, it cannot be avoided. But, the most common reasons for problems are 1) not getting oil changes frequently enough and 2) letting the oil get low between oil changes. Driving any more than 6000 miles (3000 miles for turbos) can cause the piston rings to clog. Then the blow-by causes buildup on the valves. The oil level should be checked everything 1000 miles and topped off.
Oil consumption issues are made dramatically worse by:
Not knowing how much oil your Mini Cooper uses
Not keeping the oil level in the "safe" zone
Changing the oil at intervals between 8,000 and 15,000 miles
As auto mechanics, we hate to see these engines wearing out prematurely.  As customer-focused automotive professionals, we hate to see our customers saddled with high maintenance costs. These repairs can range from special cleaning services to complete engine replacements. We especially hate to see this as THE PROBLEMS CAN  BE PREVENTED!
We can't just stand by and do nothing.  BA Auto Care is taking steps to change this situation. We are by asking ALL MINI Cooper customers to STOP BY FOR A FREE OIL CONSUMPTION TEST.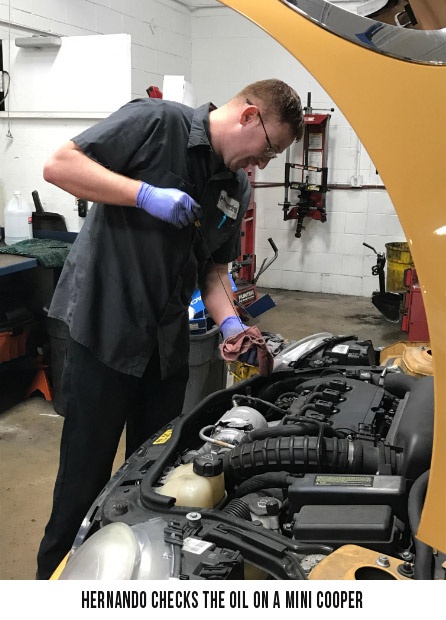 WE WILL:
Check your oil level and top it off.
Recheck the oil level after 500 miles, and top it off again.
Calculate your oil consumption and recommend a maintenance schedule to protect your engine.
ALL this will be FREE of charge for up to the first two quarts of oil. (If you require more than two quarts of oil, we recommend an oil change.
Please call and make a five to ten minute "while you wait appointment" so we can protect your Mini Cooper.  We will do our best to get you in and out as quickly as possible.  Just click the image below to schedule your service.
We can help keep your MINI running well and avoid PREVENTABLE repairs. We know you love you Mini Cooper.
While you are here at BA Auto Care, share your story of why you brought a Mini Cooper.  We love MINI stories!