My Car Hit a Median Strip. What Should I Do?
Brian England, Tue, Sep 20, 2016
There are a lot of distractions for drivers these days — from GPS systems to mobile phones to all kinds of computer display panels.  Get distracted long enough and you just may end up hitting a road obstacle — it could be a median strip, a pot hole or some debris in the roadway.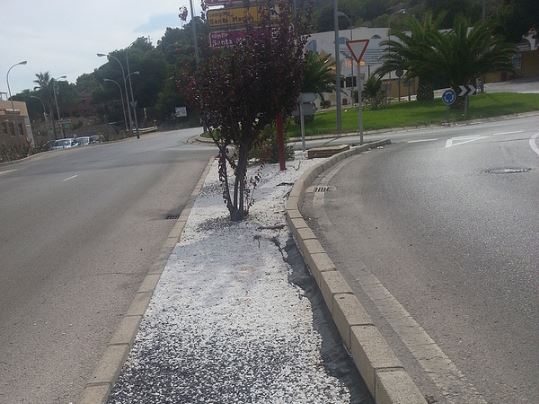 If this happens to you, there are some things you should check out right away after accidentally hitting a road obstacle.  Don't just keep on driving!
First of all, check to see if the car is shaking.
Secondly, ascertain whether the car is pulling to one side.
Check to see if the steering wheel Is off center.
Do you notice any vibrations?
Does the tire that took the impact look flat?
Does anything from the underside of the car appear to be hanging low or dragging on the ground?
If the answer is yes to any of these questions, then the car should be carefully inspected, and the alignment checked as soon as possible.  Of course, if you have a flat tire, you'll need to take care of that right away.
If the answer is no to all of these questions, still have your car checked out. It should be road tested and inspected on a lift where the wheels are free to be turned.  You should also have the alignment checked, the tires carefully examined, and the rims checked.
If you do find any damage, you may want to start an insurance claim.  Importantly, many insurance companies have limitations on the amount of time that can pass between the incident and the report of damage, so be sure to check your policy.  You won't want to miss the deadline!  I had a friend who ended up with over $3,000 worth of damage to his car after hitting a median strip, but he didn't think about checking with the insurance company right away.  When he did finally check it was too late to make a claim.
If it was a pot hole that you hit, be sure to report the location of the pothole to the local authorities who are responsible for maintaining the roads.  They can take action to fix the problem so other people won't have the same experience.
Also with any car that sits low or close to the ground, you could have other "under car" issues. Taking action as soon as possible will help keep you safe when driving your vehicle and it will help you avoid problems that could cause premature tire wear.
Image courtesty of Brian Kelley's flickr photo stream